Chinese pairs take skating honours
( 2004-01-26 09:32) (Agencies)
China's Pang Qing and Tong Jian won the pairs free skate on Saturday to claim the overall pairs title at the International Skating Union Four Continents Figure Skating Championships.
China's Zhang Dan and Zhang Hao settled for second while Canada's Valerie Marcoux and Craig Buntin took third, both repeating their placings from the earlier short programme behind the Chinese champions.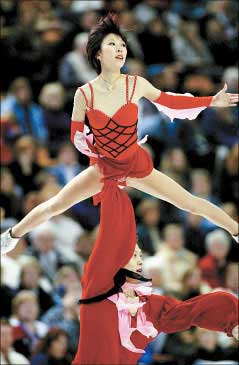 Pang Qing (top) and Tong Jian of China perform during the pairs free skate at the Four Continents Figure Skating Championships in Hamilton, Ontario, on Saturday. The skaters won ahead of their teammates Zhang Dan and Zhang Hao. [Reuters]

Pang and Tong were fifth at the International Skating Union Grand Prix Series final last month in the United States, also one place ahead of their compatriots in that event.

China's Grand Prix Series final pairs champions, Shen Xue and Zhao Hongbo, did not compete in the Four Continents competition.

Pang and Tong, second in this event last season and the winners in 2002, delivered a near-flawless routine set to Variations on a Theme of Pagnini to capture the gold.

Zhang and Zhang also showed spectacular tricks, but they lacked the choreographic finesse and presentation of the top couple.

Jeffrey Buttle who struggled through a poor Canadian national championships earlier this month and missed making the World Championship team, emerged with the men's title, ahead of reigning Canadian champion Emanuel Sandhu and American Evan Lysacek.

The outcome was a surprise since Buttle botched several triple jumps and didn't attempt a quadruple.

"My initial reaction was that I was disappointed,'' he said. "It's definitely not the skating I'm capable of.

"I thought I'd be dropping ... I was quite surprised. You have a gold medal performance in your mind, and that wasn't it.''

But Sandhu, who made mistakes of his own and threw in extra jumps to help compensate, was gracious.

"It's been a good week,'' he said. "It's another good step for me in preparing for the worlds."