Economists warn mushrooming CBDs
( 2003-10-31 10:39) (China Daily HK Edition)
The mushrooming of Central Business Districts (CBDs) around the nation has left experts and insiders wondering whether they are so many white elephants being stacked up.
According to a survey by the Shenzhen Urban Planning and Designing Institute, more than 40 key cities planned, or were building, CBDs at the end of last year.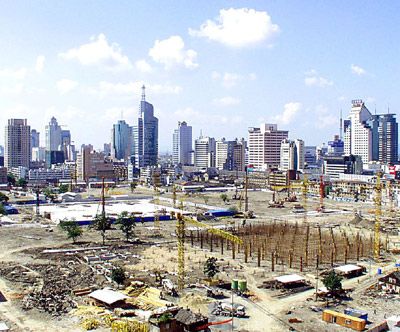 CBD under construction in Ningbo, East China's Zhejiang Province
Besides the four municipalities - Beijing, Shanghai, Tianjin and Chongqing - many provincial capitals and developed coastal cities, including Shenzhen, Xiamen and Dalian, have all initiated plans to develop CBDs.
Even a bunch of medium-sized cities in South China, such as Xiangfan, Huainan, Wenzhou, Suzhou, Wuxi, Foshan and Dongguan, are following suit.
The local governments' enthusiasm for the CBDs has led to some concern among experts, who worry that it may lead to duplicated construction and waste of resources.
Zhu Ziyu, director of Urban Planning and Designing Institute affiliated to the Chinese Academy of Urban Planning and Designing, pointed out that many local officials believe that building business districts will automatically stimulate the city's social and economic development.
With the lure of a CBD signboard, they attract domestic and overseas entrepreneurs; and professional talents, which, they hope, enhance the city's business atmosphere.
And, of course, it is not all for the city - many local officials regard setting up CBDs an important career achievement.
Insiders say that local officials' blind rush is also driven by prodding by some real-estate developers, who eye the huge business opportunities in construction.
"The developers take the chance to increase real-estate prices and reap profits," said Zhu.
The concentration of infrastructure facilities and ignorance of basic business conditions will lead to CBD bubbles, experts warn.
"They do not understand the exact concept of CBDs and their prerequisites," said Li Yang, director of the Finance Research Centre of the Chinese Academy of Social Sciences.
Traditionally, a CBD is located in the city's downtown area, has robust economic activity and is a hub of international business institutions engaged in finance, commerce, trade, information and intermediary services.
"A CBD should boast modern office buildings and a series of service facilities, including hotels, apartment houses, shopping centres and entertainment places," said Li.
Moreover, a complete and convenient transport system and secure and efficient telecom services are absolutely necessary.
"Besides such infrastructure, some 'soft' issues, such as international influence on the city, a liberal outlook, high living standards, quality human resources as well as level of education and medical services should all be taken into account," said Li.
Li stressed that finance should be the key industrial sector in a CBD. And over half of the institutions in a CBD should be headquarters of leading multinationals and transnational banks.
Li cited Frankfurt as an example, which is one of the world's leading CBDs. So far, 196 headquarters of foreign-funded banks and financial institutions and 140 domestic firms are located in the German city's CBD.
On average, Frankfurt CBD's annual capital flow makes up 20 per cent of Europe's GDP.
Many experts consider setting up world-class CBDs a prerequisite for China to meet the requirements of economic globalization and market liberalization.
Experts say that CBDs' convenient transport systems, rich information resources, efficient telecommunications, high-quality office facilities, and sound financial and business operation environment greatly reduce companies' operation and management costs.
Those advantages are the magnet for transnational enterprises and financial institutions to launch their headquarters or representative offices, which will also help the city enhance its international competitiveness.
Li indicated that development of CBDs and its peripheral areas also stimulate the progress of related service industries, such as education, commerce, medical care, catering, entertainment and environmental protection.
Experts and insiders emphasize that, during the development process, designers and administrators of a CBD should pay great attention to auxiliary services and the soft environment to maintain healthy and sustainable progress.
C. Virginia Fields, president of Manhattan Borough, New York, cited development of Manhattan CBD as an example and said that CBDs should "invest in the skills and education of workforce, seek better ways to manage energy and develop with an environmental consciousness."
Petrina Tam, a partner of Price Waterhouse Coopers (PwC) China Tax Services Group, echoed that, in the modern world, the "software" of a business area is more attractive than hardware or infrastructure and land conditions, in investors' eyes.
Furthermore, Tam highlighted that professional service organizations should play an active role in the development of CBDs, which can be regarded as a bridge between government and enterprises.
"On the one hand, investors or companies in CBDs need professional services at each stage of their life cycle - from setup to wind-up," said Tam.
"On the other, professional service organizations can help train management executives or act as the adviser to the government for CBD development by identifying and consolidating concerns of investors."
Though a majority of the experts and insiders criticize the over-heated development of CBDs around China, some think the CBDs can be divided into various levels - international, national and provincial.
Liu Zhiyan, director with the City Centre Economy Office of Chinese Academy of Social Sciences, said that Beijing and Shanghai can act as international CBDs for China and CBDs in Guangzhou, Chongqing and Dalian might be regarded as regional ones for South China, Southwest China and Northeast China respectively.
Some small-sized local CBDs should be connected with regional ones via convenient and high-speed transportation networks, he advised.
"In addition, due to the rapid growth of the information industry, e-communication among various CBDs will not only facilitate the businesses and transactions but also add to common progress of the regions," said Liu.