China, UNESCO make progress in protecting Buddhist grotto
( 2003-10-28 09:48) (Xinhua)
A UNESCO-sponsored project to protect a prestigious Buddhist grotto in central China.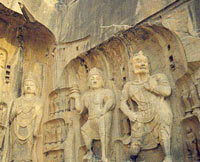 A UNESCO-sponsored project to protect a prestigious Buddhist grotto in central China "has set an excellent example and has a good beginning in international cooperation," a top protection official said.
At a work meeting on the grotto's protection, Li Zhengang, director of the Longmen Grotto Institute in Luoyang, Henan Province, said the largest ever protection investment "has not only produced very good results, but also helped raise public awareness of the grotto's preservation."
According to Aoshima Yashuyuki, representative of the Beijing Office of UNESCO, the project was financed by the Japanese government under the sponsorship of UNESCO. The Chinese and Japanese governments signed a protection project agreement with UNESCO in November 2001.
The Longmen Grotto, a prestigious World Cultural Heritage Site dating back some 1,500 years, is situated approximately 13 kilometers south of ancient Luoyang City and boasts 2,100 grottoes and niches, over 40 crematory urns, 3,600 inscribed stone tablets and more than 100,000 Buddhist images and statues.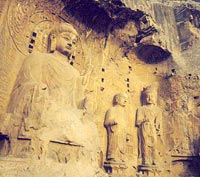 As most of the statues were carved into the cliff face, they had long suffered exposure to the combined harm of sun damage, rain erosion and atmospheric pollution, causing the rock to crumble and break off in chunks.
According to Li, the two-year work has finished as scheduled landscape mapping, geological surveying, vertical drill testing, environment supervising equipment and damage-monitoring devices. According to the plan, the second-phase project is to launch repair and protection work on some select caves on a trial basis.
Li said the institute has sent two staff members to Japan to receive special technical training concerning repair work.
(Special for Awen Dawn, with photos)