Film bucks market trend
( 2003-10-28 08:44) (China Daily)
Inspired by the unprecedented box office success of Zhang Yimou's "Yingxiong (Hero)," many Chinese filmmakers are now focused on producing market-oriented blockbusters.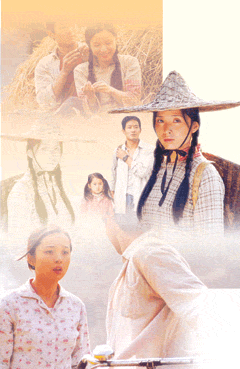 Chinese film director Huo Jianqi's latest production "Nuan" focuses on a rural love story between Nuan and Lin Jinghe. [File Photo]

But Huo Jianqi isn't one of them. In fact, he seems doing exactly the opposite.

All of Huo's previous films, from "Nashan, Naren, Nagou (Postman in the Mountains)" to "Lanse Aiqing (A Love of Blueness)" focus on sincere relationships between people, establishing a unique unaffected style by minimizing the theatrical elements.

His latest feature, "Nuan," continues that tradition by telling a simple story which reflects the personal experience of many ordinary Chinese people.

The movie will premiere before an international audience at the 2003 Tokyo International Film Festival, November 1-9.

Unaffected story

"Nuan" has been frequently compared with "Postman in the Mountains," the 2.1 million yuan (US$250,000) small-budget production Huo directed in 1998.

Such a comparison seems to be inevitable.

Both movies are set in the countryside and feature simple but tasteful storylines that evoke an almost poetic atmosphere.

Those elements, plus the subtle portrayal of personal relationships, have been considered typical "Huo styles." Each distinguishes the director's movies from those Hollywood blockbusters which captivate audiences with dazzling sound and special effects.

While "Postman" deals with the relationship between father and son, "Nuan" is a simple but affectionate record of a bygone age.

In order to get in line with the plain flavour, the director said he intentionally avoided casting stars or familiar faces.

Instead he selected Guo Xiaodong and Li Jia to play the leading roles, even though they both had limited screen experience. Guo (Lin Jinghe), and Li (Nuan), both graduated from Beijing Film Academy, where they were classmates. Zhao Wei (Vicky Zhao), one of China's hottest actresses, was also their classmate.
In a nutshell, the movie is about how a young man in his early 30s returns to the village where he spent his childhood after living in the city for 10 years. Back in the village, he meets his first love. It's a story somewhat similar to Chinese writer Zhang Chengzhi's classic novel "Hei Junma (The Black Steed, or A Mongolian Tale)."
But the content of "Nuan" is more substantial and more likely to strike a chord in the local market as many young Chinese born in the 1970s can identify with the male protagonist. From the outset, Huo believed this was one of the film's selling points.
"It is not simply a love story," said Huo. "Because no matter how far one has walked, he will never forget his hometown. I also wanted to convey the feeling for native soil."
As an agricultural country, China's rural population accounts for around 70 per cent of the total population.
Many young people born in the rural areas get employed in cities and settle down after they graduate from college or university, bidding farewell to rural life forever.
Guo Xiaodong himself has a similar experience. He was born in the rural areas and stayed there for almost 20 years, until he went to Beijing Film Academy.
"Nuan" is adapted from a novel by renowned Chinese writer Mo Yan, "Baigou Qiuqianjia (The White Dog and Swing)."
Mo Yan is most known for his novel "Hong Gaoliang (Red Sorghum)," on which director Zhang Yimou based a movie and established his fame.
Although he said he does not care too much about how his novels are adapted, Mo Yan praised Huo for having done "a very satisfying" job.
Huo himself would not comment on the movie, adding that whether it is good or bad is for the audience to decide.
Investor's expectations
While the director said he will not think too much of the box-office revenue, the investor definitely does.
Dong Fan, boss of the film's investor Jinhai Fangzhou Cultural Development Co, has a sound understanding of the market potential for "Nuan."
The movie is scheduled to premiere in China in the end of this year. The newly established Huaxia Film Distribution Company has purchased the distribution rights and is already making preparations.
"Maybe it will not make big money in the local market; most audiences prefer the sensual feast provided by Hollywood blockbusters," said Dong.
Like him, many insiders suspect that such a movie, though artistically good, is somewhat too subtle for China's movie market, which is still far from mature.
As a matter of fact, "Postman in the Mountains" went almost unnoticed when it debuted in 1998. Although it won a trio of awards, including best picture and best actor, at China's top movie awards Golden Rooster, very few local distributors showed any interest in it.
The film's domestic distribution and broadcast rights were finally sold to the Movie Channel of China Central Television, the only national movie channel in China, for 480,000 yuan (US$57,800).
But the movie unexpectedly became a hit in Japan three years later, after being sold to a Japanese distributor for US$60,000.
According to Dong, so far "Postman" has raked in at least 800 million Yen (US$7.3 million).
For that reason, Dong Fan has high hopes for "Nuan" in the Japanese market, expecting it might duplicate the success of "Postman."
"At least, both Huo Jianqi and Mo Yan are somewhat well-known in Japan," said Dong.
In order to cater to the Japanese market, the movie has also invited a Japanese actor, Teruyuki Kagawa, to play another major role.
The movie was shot between October and November last year, but the later stage production was delayed because of the sudden outbreak of SARS (severe acute respiratory syndrome) in May, making it miss the Venice International Film Festival.