Wave of bombings kills dozens in Baghdad
( 2003-10-28 06:20) (Agencies)
Striking in rapid succession, suicide car bombers bent on death for "collaborators" devastated the Red Cross headquarters and three police stations Monday, killing three dozen people and wounding more than 200 in the bloodiest day in Baghdad since the start of the U.S. occupation.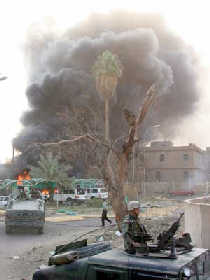 U.S. Army troops secure a blast site outside the Baghdad headquarters of the International Committee of the Red Cross October 27, 2003. [Reuters]
From north to south in this city of 5 million, the explosions over a 45-minute period left streetscapes of broken bodies, twisted wreckage and Iraqis unnerved by an escalating underground war. The dead included a U.S. soldier, eight Iraqi policemen and at least 26 Iraqi civilians.
"We feel helpless when see this," said an Iraqi doctor.
Iraqi and U.S. authorities in Baghdad blamed the coordinated quadruple blasts on foreign fighters intent on targeting those they accuse of collaborating with U.S. forces. One captive would-be bomber was said to carry a Syrian passport.
But in Washington, Pentagon officials said they believed loyalists of ousted President Saddam Hussein were responsible. U.S. President Bush said insurgents had become more "desperate" because of what he said was progress in Iraq.
The tactics suggested a level of organization that U.S. officials had doubted the resistance possessed. In past weeks, bombers have carried out heavy suicide bombings but in single strikes.
Not only were Monday's attacks coordinated, they also involved disguise: the use of an Iraqi ambulance in the Red Cross attack, a police car and uniform in a police station explosion.
The blasts, which echoed the Aug. 19 bombing of the U.N. headquarters here, left the Red Cross and other aid agencies examining whether they should decrease their presence in Iraq. Paris-based Medecins Sans Frontieres said it would reduce its seven-member expatriate team in Baghdad.

U.S. Secretary of State Colin Powell said he hoped nongovernment organizations, contractors and the United Nations would stay in Iraq despite the dangers.
"They are needed. Their work is needed. And if they are driven out, then the terrorists win," Powell said in Washington.
The differing theories about who was behind the bombings underscored the confusion generated by two days of bold, stunning attacks, beginning with a rocket barrage on a U.S. headquarters hotel Sunday that killed a U.S. colonel, wounded 15 other people and sent Americans scurrying to safety, including the visiting deputy defense secretary, Paul Wolfowitz.
Later Sunday, three U.S. soldiers were killed in two attacks in the Baghdad area.
Then, at 8:30 a.m. Monday, on a warm, clear morning beginning the Muslim fasting month of Ramadan, the first of four thunderous explosions rocked the city.

A police car, somehow commandeered for a suicide mission and driven by a man in police uniform, blew up after entering the courtyard of the al-Baya'a police station in southern Baghdad, said police Brig. Gen. Ahmed Ibrahim, the deputy interior minister.
Officers said the blast killed 15 Iraqis and one U.S. soldier, and the U.S. military said six other Americans were wounded. American troops have been working with Iraqi police and guarding the stations.
Just five minutes later, a second blast struck the local headquarters of the International Committee of the Red Cross, a small, three-story building on a quiet street in central Baghdad. This bomber, too, used a subterfuge ¡ª an Iraqi ambulance that apparently was able to approach the ICRC offices without suspicion.
"I saw this ambulance driving up toward the Red Cross, and then suddenly it blew up," said cigarette vendor Ghani Khadim. The vehicle stopped 60 feet from the front of the Red Cross building, at a protective line of earth-filled barrels, and disintegrated as it blew a 15-foot-wide crater in the road.
The blast knocked down a 40-foot section of the ICRC's sandbag-backed front wall, demolished a dozen cars and apparently broke a water main, flooding the streets. The building's interior was wrecked ¡ª a scene of shattered glass, doors blown off their hinges, toppled bookcases and collapsed ceilings.
More than 100 staff members normally would have been inside, but starting time had been changed to 9 a.m. because of Ramadan, and probably only one-quarter of the normal staff was present. Red Cross headquarters in Geneva said 12 people were killed, only two of them employees, believed to be security guards, and the rest apparently passers-by.
The Red Cross and other aid organizations reduced their Baghdad staffs after the car bombing at U.N. headquarters that killed 23 people.
"Of course we don't understand why somebody would attack the Red Cross," said Nada Doumani, Baghdad spokeswoman for the ICRC, an organization that has long strived for political neutrality.
Two buildings away, the explosion devastated the interior of a private clinic operated by Dr. Jamal F. Massa, who had been planning to open it as a full-fledged hospital next month. "We feel helpless when we see this," he said of the ICRC bombing. He couldn't understand why the Red Cross was targeted, he said, since "this only hurts guards and other Iraqis."
Twenty minutes after the ICRC attack, another car bomber detonated his explosives-packed vehicle at a police station near a marketplace in north Baghdad.
After another 20 minutes, the fourth suicide bomber struck in southwest Baghdad, at the al-Khudra police station, destroying the front of the building.
Besides the dead, at least 224 people were reported wounded in the four attacks, including 65 policemen, Ibrahim said. The 34 dead he reported apparently did not include the American soldier the U.S. command said was killed at al-Baya'a, nor was it clear whether he was counting the four suicide drivers.
At 10:15 a.m., yet another bombing was attempted, at a police station in the eastern district of New Baghdad, where officers managed to spot and stop a Land Cruiser driver from detonating his explosives. The man set off a grenade that wounded an officer and himself, and when he was seized, "he was shouting, `Death to the Iraqi police! You're collaborators!'" said police Sgt. Ahmed Abdel Sattar.
Ibrahim said the man carried a Syrian passport and told officers he was Syrian. "Some countries, unfortunately, are trying to send people to conduct attacks," the deputy interior minister said, without naming those nations.
Brig. Gen. Mark Hertling, an assistant commander of the U.S. 1st Armored Division, which occupies Baghdad, agreed that "foreign fighters" were prime suspects in the bombings. "I think that's a reasonable supposition," he said. "That's something we'll look closely at in the next few days."
Nevertheless, the latest attacks illustrated the disparate nature of the resistance ¡ª from hit-run guerrillas, perhaps Saddam loyalists, who are staging an average of 26 low-profile attacks on U.S. forces daily, to bombers, perhaps Islamic extremists, staging suicide terror strikes.
The resistance is believed also to include Iraqis who simply resent the U.S. military occupation of their country or who have grievances over what they see as U.S. brutality against friends and neighbors.
One such incident may have occurred Monday in Fallujah, 40 miles west of Baghdad, where witnesses said U.S. troops opened fire on bystanders, killing at least four Iraqi civilians, after a roadside bomb exploded as a U.S. military convoy passed. The U.S. command did not confirm the incident or report any U.S. casualties.
In Washington, after the Baghdad bombings and after meeting with L. Paul Bremer, the U.S. civilian administrator for Iraq, Bush said he remains "even more determined to work with the Iraqi people" to restore peace to this troubled land.