China unveils logo and mascot for 2004 Asian Cup
( 2003-10-27 11:02) (Xinhua)
The countdown to the 2004 Asian Cup soccer tournament started on Sunday as the Asian Football Confederation (AFC) and the Chinese Football Association (CFA) officials unveiled the tournament's logo and mascot in Beijing.

The Logo of China 2004 Asian Cup

A ceremony to mark the event was held at the Beijing Television Studio before an audience of VIPs, including AFC Senior Vice President Asad Taqi, Vice President Zhang Jilong, General Secretary Dato Peter Velappan, and CFA Vice President Yan Shido and Vice President Yang Yimin.

The Asian Cup logo is a dragon icon, a symbol that embodies both the traditions and ambitions of China. In Chinese culture, the dragon represents strength, dynamism, energy and courage.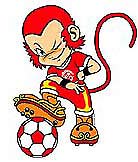 The mascot is a monkey named Bei Bei

The design, which shows the dragon surrounding a football, illustrates the dragon's quest to capture the fireball.

Illustrating the Chinese Year of the Monkey, the mascot Bei Bei is fun loving, friendly and colorful.

In the week following the launch, representatives from the Asian Cup Organizing Committee will have an inspection of all stadiums and facilities to be used during the event next year.

The 2004 Asian Cup, which will be held from July 17-August 7 in four Chinese cities, namely Beijing, Ji'nan, Chengdu and Chongqing, is the largest-ever as a total of 16 teams participate.