Framework for closer trade ties in sight
( 2003-10-27 06:43) (China Daily)
Visiting President Hu Jintao and New Zealand Prime Minister Helen Clark Sunday pledged to further expand bilateral trade and economic co-operation.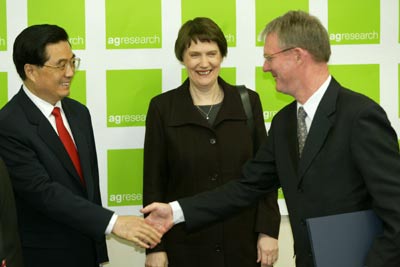 Chinese President Hu Jintao (L) shakes hands with the Honorable Pete Hodgson (R) as New Zealand Prime Minister Helen Clark looks on at the AG Research Centre in Hamilton, New Zealand October 26, 2003. Chinese President Hu Jintao is on the last official stop on a regional tour. [Reuters]
China and New Zealand will hold a ministerial consultation on how to strengthen their trade ties next month, expecting to bring about a bilateral trade and economic co-operation framework as soon as possible, according to the two leaders who jointly met the press Sunday.
"We have agreed to further substantiate our all-round co-operation in light of the principles of mutual respect, equality and mutual benefit, seeking common ground while putting aside differences, and common development,'' Hu said.
Clark said New Zealand hopes the outcome of the bilateral consultations and establishment of a framework for co-operation could "see both sides in due course exploring the possibility of a closer economic partnership.''
Hu said bilateral trade volume has been growing at an average annual rate of 12 per cent for the past decade, and last year's growth rate rose to 19.4 per cent, reaching US$1.4 billion.
This year's two-way trade already reached US$1.3 billion by September, representing a year-on-year increase of 30 per cent.
After their talks, Hu and Clark witnessed the signing ceremonies for the agreement on consular relations, and the arrangements for the establishment of a consultative mechanism on World Trade Organization issues and mutual recognition of academic degrees in higher education.
Hu said these documents are helpful for the two countries to strengthen their partnership in health, environmental protection, education and tourism. Over 30,000 Chinese students studied in New Zealand in 2002, doubling the number in 2001. China is New Zealand's fastest growing source of tourists. Last year the number of short-term visitors from China was 76,000, twice the number in 2000.
The New Zealand Prime Minister said both sides could accomplish much in fields where New Zealand is technologically advanced, such as bioengineering, agriculture, animal husbandry and health.
Hu yesterday also visited Hamilton, a major pasturing area of New Zealand. During his visit there he watched a robotic milking process at the Dexcel Centre and viewed the transgenic research and cloning operations at the Ruakura Research Centre, the largest governmental agricultural and pasturing research institution in New Zealand.
The president arrived in Wellington on Saturday afternoon, kicking off his three-day state visit to this country, which ends today. He met Dame Silvia Cartwright, governor-general of New Zealand in the capital city on Saturday.