Hu meets New Zealand governor-general
( 2003-10-26 16:12) (Xinhua)
Visiting Chinese President Hu Jintao expressed satisfaction on Saturday over the smooth development of relations between China and New Zealand when meeting with New Zealand Governor-General Dame Silvia Cartwright.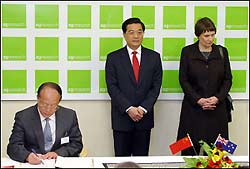 Chinese President Mr Hu Jinato (centre) and New Zealand Prime Minister Helen Clark (R) stand while Chinese Minister of Quality, Supervision, Inspection and Quarrantine, H E Mr. Li Changjiang signs new meat protocol agreements between the People's Republic of China and New Zealand at AgResearch, Hamilton 26 October 2003. [AP]

During the meeting, Hu said that the China-New Zealand relations have made progress in recent years, with frequent top- level exchanges of visits and enhanced cooperation in the fields of trade and economic relations, education, tourism, and science and technology.

"Reviewing the development of bilateral ties since the two countries established diplomatic relations 31 years ago, we found that the important foundation and guidelines for our relations are mutual respect, equality and mutual benefit, and seeking common ground while reserving differences so as to achieve common development," Hu said.

China's new leadership has attached great importance to the China-New Zealand relations and hopes to further promote the bilateral ties, he said.

The Chinese president believed that through his visit both sides would deepen mutual understanding and expand common ground with a view to elevating their friendly cooperation of mutual benefit to a higher level.

Cartwright said the Chinese culture brought to the country by Chinese immigrants since the early 19th century has become an important part of the social culture and daily life of New Zealand.

Over the past 31 years since the two countries forged diplomatic ties, the fields of their cooperation have been expanding, said the governor-general, adding that New Zealand is willing to jointly work with China to further develop the bilateral relations as well as the friendship between the two peoples.

President Hu arrived in Wellington Saturday afternoon for a three-day state visit after touring Australia and Thailand, where he attended the informal Economic Leaders' Meeting of the Asia- Pacific Economic Cooperation.