Chinese flock to see space capsule
( 2003-10-25 17:36) (chinadaily.com.cn)
Thousands of people flocked to a Beijing landmark on Saturday to admire the space capsule that brought China's first astronaut back to Earth.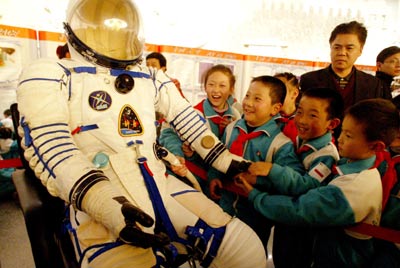 School children take a close look at the space suit worn by China's first astronaut Yang Liwei at an exhibition in the China Centenary Altar, in downtown Beijing, October 24, 2003. [newsphoto.com.cn]
Toddlers and pensioners alike queued at the Millennium Monument in western Beijing on the opening day of the space exhibit, which featured photographs and replicas of the rockets that shot "taikonaut" Yang Liwei into orbit and his parachute.
Visitors crowded around the capsule, presented to the public for the first time, snapping photographs and videotaping the vehicle.
Yan Chungmin, a 49-year-old telecoms executive, said she had travelled all the way from the distant western province of Xinjiang to see the space exhibit.
"When I saw Yang Liwei on television, I was very emotional," she said. "This was the first time for China, and it shows how great and strong our country is."
Yang's safe return brought a triumphant climax to China's historic voyage, four decades after Russian and American astronauts pioneered manned space flight, and set off a national celebration.
Liu Decang said he was proud to be one of the first to get a glimpse of the equipment that helped make Yang's trip a success.
"I'm very proud of my country. For us to do it is a great achievement," said the 64-year-old technician.
The Beijing exhibit, toured by Yang and his son on Friday, displayed the red Chinese flag that Yang carried into space and a piece calligraphy from former president Jiang Zemin with two characters meaning "Divine Arrow".
The exhibit also included photos of Yang floating inside his spacecraft, the Shenzhou V or "Divine Ship", and a white space suit similar to one the astronaut wore.