Fun is in the air
( 2003-10-25 10:49) (China Daily)
Editor's note: Radio hams who tune in by chance become part of one big happy family. Below are stories about two hams living in Beijing.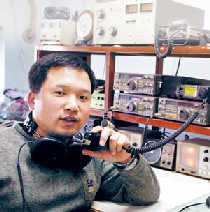 Wang Lijun with his beloved radio equipment. [China Daily]
Wang Lijun goes by another name when he hits the airwaves.
"CQ CQ CQ! This is BD100, Bravo Delta One Oscar Oscar. BD100 calling. CQ!"
This is how he begins every time he turns on his radio in the search of other hams around the world. The call code BD100 consists of different letters and numbers which convey the unique information of the code bearer in this unusual world of waves. "B" means China, "D" shows he is a third-grade ham, "1" indicates he is from Beijing and "00" is his ID name.
"My father is a retired radio operator from the army so I was influenced by him at a young age. I made a wireless speaker and a radio in 1988 with which I tried to call others for the first time in my life," he recalled.
"If it could be counted as a personal history, I'm an old ham!"
Yet he had to wait until 1993 when restrictions on amateur radio activities were lifted.
"In 1999, I moved from an enthusiast to a real radio ham as I came to know the charm of it."
The radio brings him a lot of pleasure. Through sending and receiving information, he has found a unique way to make new friends, even if he doesn't know their real names.
On the invisible waves he has found a new home where he feels a sense of belonging. Indeed he regards it as his spiritual home.
To indulge in his hobby as often as possible, Wang installed a radio set and antenna in his car. It cost him around US$ 330 (2,706 yuan) to get it from the United States.
"I always keep it on when I am driving so that I can link with anyone on the same frequency as mine. The farthest ham I met on air is in Shenzhen, Guangdong Province over 3,000 kilometres away."
Working as a secretary at the Chinese Radio Sports Association (CRSA), he has easier access to learn more about his passion: "There are 1.2 million hams in Japan and hundreds of thousands in the United States.
"But in our country, the figure is less than 25,000, mostly because economic development was not so good in the past," he said.
"The situation has been changing for the better in recent years. But we also see problems."
What concerns him most is the misunderstanding that radio hams are free to talk about anything: "This goes against the government's goodwill to encourage enthusiasts to explore, study hard and contribute to the country's radio development."
In his eyes, people using radio to talk nonsense are elementary at best.
He compares hams' levels of achievement and expertise to a pyramid. At the bottom are beginners and the higher up you go, the better the skill level.
But in a world with mass-Internet access and mobile telephony, why bother?
Wang has an immediate answer.
He says it is the trueness of feeling amongst their community that hams appreciate. Radio waves weave a new net of friendship in which people far apart can become intimate friends even without knowing each other's names and faces.
"The radio world is almost the same as the Internet as you can find strangers and talk to them and even become friends. But the major difference is that in the radio world everyone is real and traceable. You can count on them for help if you want. It is just like the saying that all the hams in the world belong to one big family," Wang concluded.
Jia Xiaoguang
Compared with other experienced hams, Jia Xiaoguang is an absolute beginner.
He doesn't even have his licence yet. But that doesn't stop him from being an active ham, often appearing on the air.
Although having heard of radio hams years ago, Jia only made his first attempt this August when he was struck by a story in a magazine passed to him by one of his friends. Buying a second-hand set for about 1,000 yuan (US$120), Jia found himself joining a new community.
"The best thing for me at my beginning was that I met BG1RZ and BG1AYM. I don't even know their names today, but these two old hams helped me to buy equipment, make my own radio, register with the CRSA and solve technical problems all the time. It made me feel like I was in a big family."
Then, he was surprised with just how big that family is. Within several months, he had hooked up with scores of hams. The furthest is located in Tangshan, Hebei Province.
As an IT professional, Jia has found many new friends from different backgrounds through his hobby.
"About 40 fellow hams who met on the air have formed a small club called Paladin Tribe on the Internet. I met an interesting ham named Paladin Tribe 17. I do not know his name but address him either by his calling code or club name," Jia said.
That ham is a farmer-turned-guard working in the northern part of Beijing. Even without too much academic knowledge, he showed great interest in radio and demonstrated a wonderful DIY skill to fashion a cool bicycle with a complete stereo system and radio facilities.
The old-style bicycle is equipped with lights, electric horn, an accumulator and two superwoofers at the rear and a vehicular radio on the front handlebars.
Jia said the personal refit was good and the bicycle has been working quite well for his activities outside.
"Being a ham has brought me very wonderful feelings of being able to help others while receiving help from others. For those non-hams, I'd like to say join us and you'll have great fun," Jia said.