Panning for golden hope
( 2003-10-25 10:36) (China Daily)
For four young members of the Han family, the recent National Day holiday was by no means a time for rest, but an opportunity to earn a meagre wage to supplement their education expenses.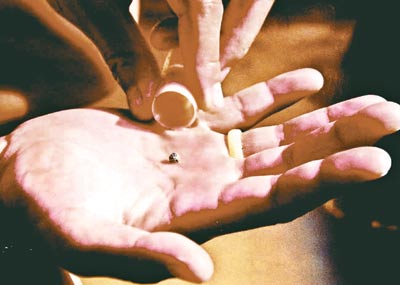 From dawn to dusk, what the four girls got one day is this little bit of gold powder, worth something around 30 yuan.
Their chosen task?
Panning for gold.
The four girls, of the Li ethnic group, are from the poverty-stricken Yalao Village in Hainan Province. The oldest, Han Junxiu, is 12, while the youngest, Han Cuiping, is 10.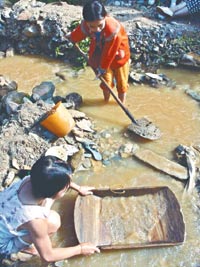 As one girl digs the river bed for sand, the other pans for gold.

Beneficiaries of an anti-poverty drive in Hainan Province - in which indigenous peoples were moved out of their homes deep in the mountains and relocated to the plains - the Li of Hainan Province continue to endure a low standard of living to this day.

As adults travel to cities and urban areas in search of work, the children of the Li ethnic group also labour to pay for their studies.

"We should earn our tuition fees with our own hands," said Han Junxiu, a Grade Five primary school student. "We began sifting sand for gold powder one year ago. We buy notebooks and pencils with our earnings," the girl added.

But it's a hard way to earn their school supplies.

During weekends and holidays, the four usually arrive at the Congle River at 7 am and position themselves in the shallow water along the bank.

Two of them hold a coarse hand-made sifter while the other two continually scoop sand up from the river bed and throw it onto the sifter.

When the sifter becomes too heavy, they dip it into the water and shake the sand loose.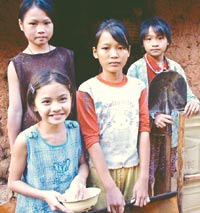 The four Han girls pay for school stationery by sifting sand for gold.

"The flowing water washes the sand away and, if we're lucky, several tiny flecks of gold appear," said Han Cuiping, an adept helper whose darkened complexion is testament to the girls' persistence.

Most of the time, however, they end up empty-handed after an entire day spent working in the scorching sun.

"I remember when we got 30 yuan (US$3.60) one day, the most we ever made," a beaming Cuiping recalled.

The money paid for their pencils, books and other stationery.

The four said they were proud of themselves. "Being self-reliant is cool."