Australia trip nets free trade framework
( 2003-10-25 00:52) (China Daily)
China and Australia agreed to a broad-ranging Trade and Economic Framework on Friday, marking the first step in reaching a free trade deal between the two nations.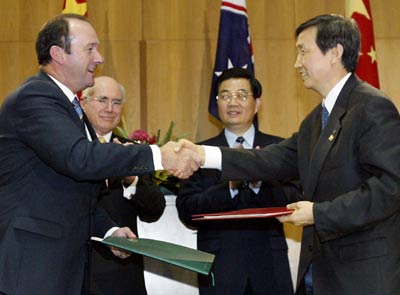 China's Vice Minister of Commerce Yu Guangzhou (R) shakes hands with Australian Trade Minister Mark Vaile (L) after they signed a trade agreement in Canberra October 24, 2003 as Australian Prime Minister John Howard and Chinese President Hu Jintao look on behind. The two countries signed what has been called a trade and economic framework agreement. [Reuters]
President Hu Jintao and Prime Minister John Howard presided over a signing ceremony for the economic blueprint and three other agreements on economic, education and agriculture co-operation.
Both leaders told reporters that the two countries shared deeper and broader prospects for economic and trade co-operation.
"The agreements we have just signed demonstrate clearly the span and depth of the relationship between Australia and China,'' Howard said.
Hu said that while continuing existing bilateral economic ties, the two countries need to expand co-operation in diverse areas.
The economic framework covers a range of strategic issues including agriculture, customs, quarantine and trade facilitation. It also includes a commitment to conduct a feasibility study into a free trade deal between China and Australia.
Analysts believe that such a framework reflects the genuine wishes of both countries to bolster bilateral economic and trade links.
"Sino-Australian ties will be more concrete and diversified,'' said Liu Fande, an Australia studies expert at the Chinese Academy of Social Sciences.
But he said it is likely to take up to two years or even longer to complete the feasibility studies. "There are still complex issues that need to be considered and that take some time.''
China is already one of Australia's largest trading partners, just behind the United States, Japan and the European Union.
Liu said he believes Australia is progressively realizing China's market potential, especially since the nation with the world's largest population entered the World Trade Organization.
A bilateral energy relationship between the two nations took another important step forward on the same day as the signing of a memorandum of understanding on the management and implementation of Australia-China natural gas. A technology partnership fund between the Gorgon joint venture and the China National Offshore Oil Corporation (CNOOC) was signed.
But a well-placed source denied the reports that CNOOC would purchase A$30 billion of the Gorgon gas.
"The memorandum gives out neither the specific figure nor the timetable,'' said Paul Su, director of energy group of Credit Suisse First Boston in Hong Kong.
Su, who is also a consultant of the project, told China Daily that the memorandum is only a basis to demonstrate that both sides can start negotiations on details.
"All the details are uncertain,'' Su said.
His words were highlighted in the statements issued on Friday by the two companies, in which they call for the parties to place a "significant'' volume of Gorgon liquefied gas into the growing Chinese market.
The newly-appointed chairman and CEO of CNOOC, Fu Chengyu, accompanying Hu on his visit here, said: "We look forward to becoming an active and constructive player in the Australian hydrocarbon business as a Gorgon participant.''