China, Australia boost ties with trade deal
( 2003-10-24 16:23) (chinadaily.com.cn)
Australia and China strengthened their trade ties during a visit by President Hu Jintao on Friday, with the two sides signing a huge gas supply deal and agreeing to explore a free trade pact.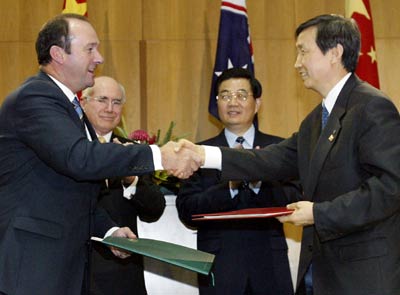 China's Vice Minister of Commerce Yu Guangzhou (R) shakes hands with Australian Trade Minister Mark Vaile (L) after they signed a trade agreement in Canberra October 24, 2003 as Australian Prime Minister John Howard and Chinese President Hu Jintao look on behind. The two countries signed what has been called a trade and economic framework agreement. [Reuters]
``There will be a number of things signed and witnessed today between Australia and China that is really going to cement the relationship between our two countries,'' said Trade Minister Mark Vaile.
The two governments signed a 30 billion Australian dollars (US$21 billion) agreement for Australia to supply China with liquid natural gas over the next 25 years. It will be the second major gas supply contract between the two countries in the past two years.
This deal topped a A$25 billion contract awarded to Australia last year to supply China's Guangdong province with 3.3 million tonnes of liquefied natural gas (LNG) a year over 25 years. This was then Australia's largest single export deal.
It will ensure Australia becomes a key supplier of the energy to help China's fast growing economy.
The two sides also inked a broader framework agreement setting out a ``road map'' for the conduct of trade and economic ties Friday afternoon.

Hu said on the basis of and equality and mutual respect for each other's systems, China saw Australia as an important trading partner now and in the future.
"China and Australia respect each other's sovereignty and territorial integrity, stick to non-interference in each other's internal affairs and enjoy a growing mutual trust in the security field," Hu told a joint sitting of the national parliament.
While Australia has tightened its ties to the United States in recent years, culminating in a visit by President George W. Bush on Thursday, it has also continued to pursue trade links in Asia which accounts for about 50 percent of its total trade.
This year Australia, a leading world agricultural and mineral exporter, has sealed free trade deals with Thailand and Singapore and it is eyeing pacts with the United States and China in a move towards bilateral pacts.
Hu stressed the importance of Sino-Australian trade with the two-way flow almost trebling to A$21 billion since 1996 when conservative Prime Minister John Howard came to power.
China is now Australia's third largest trading partner and fourth largest destination for exports such as iron ore, wool and crude petroleum. Australia is China's ninth biggest trading partner, buying Chinese computers, toys and textiles.
"The potential for Australia/China economic cooperation is immense," said Hu, the first Asian leader to address Australia's parliament.
"The trade and economic framework between China and Australia that will be signed today will mark the beginning of a great new stage of our trade and economic cooperation."
Trade analysts said the trade framework, which was expected to kickstart a study into a free trade pact, is of great importance.
"That will further reduce barriers to economic relations between us," said academic economist Ross Garnaut of the Research School of Pacific and Asian studies.