Madame Chiang Kai-shek dies in New York at age 105
( 2003-10-24 14:28) (Agencies)
Madame Chiang Kai-shek, famous for using her beauty, charm and fluent English to lobby Washington to help China fight the Japanese and later the Chinese Communists, died Thursday in New York at age 105, Taiwan's Foreign Ministry said Friday.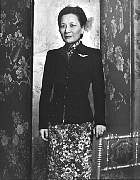 Details about the cause of death were not immediately available, ministry spokesman Richard Shih said. But Taiwan's state radio quoted Hsia Li-yen, Taiwan's representative in New York, as saying she died at peace while resting at home.
Madame Chiang had been treated for cancer and other ailments. She lived in semi-seclusion after her husband's death in 1975, spending most of the time in her Manhattan apartment or at her family's estate in Lattingtown, an exclusive Long Island suburb 56 kilometers (35 miles) east of New York City.
Madame Chiang and her husband, Chiang Kai-shek, were once one of the world's most famous couples. They married in 1926, one year after Mr. Chiang, also known as the Generalismo, took over China's ruling Nationalist Party.
The Nationalists, or Kuomintang, overthrew China's last dynasty, the Qing, but their pledges to bring democracy to China and modernize the economy were frustrated by Japan's invasion during World War II and corruption within the government. After the war, the Nationalists lost a bloody civil war to Mao Tse-tung's Communist Party and retreated to Taiwan in 1949.
Though born in the East, Madame Chiang was thoroughly Western in thought and philosophy. Brought up in a Methodist family, she studied in America between the ages of 10 and 19 and graduated with honors from Wellesley College in Massachusetts in 1917.
``The only thing Oriental about me is my face,'' she once said.
Her supporters said she was a powerful force for international friendship, understanding and good. But her detractors called her an arrogant dragonlady and propagandist for her husband's corrupt and incompetent government.
She was born Soong Mei-ling in 1898, on the southern Chinese island of Hainan. Her family's background could stand as a brief history of modern China as seen through revolution, efforts to unify and modernize, and the split between the communist People's Republic of China and the Nationalists' Republic of China.
Her father, Charles Soong, was educated as a Christian missionary at Vanderbilt University in Tennessee. Soong worked closely with Dr. Sun Yat-sen, leader of the Nationalist revolution that overthrew China's last emperor in 1911.
Education was important to Soong, and Madame Chiang and her two sisters were among the first Chinese women educated in the West at a time when foreign education was considered important only for sons.
A scholar at heart, Madame Chiang once said her idea of happiness would be a life of uninterrupted reading, studying and writing.
Madame Chiang met her husband, a disciple of Sun Yat-sen, around 1920, and married him Dec. 1, 1927. She later converted him to Methodism, but their marriage was often stormy, in part because of Chiang's infidelities.
Madame Chiang's sisters also married prominent Chinese figures and all three of her brothers held high posts in the Nationalist regime.
Ching-ling, the second of six Soong children, married Sun Yat-sen, the father of modern China. She broke with the family's Nationalist ideology and sided with the Communists after her husband's death in 1925.
She eventually was appointed to a high-ranking position in the Communist government in Beijing, one roughly equivalent to vice president. Madame Sun died in 1981.
Madame Chiang was a working wife, taking on tasks ranging from interpreter and social worker to head of China's air force during World War II, an ironic twist of fate since she suffered greatly from air sickness.
She was also one of her husband's most prominent lobbyists in Washington. The Generalismo could not speak English and disliked dealing with foreigners, so his wife became his spokesman for the outside world, creating an image of an attractive, young couple trying to steer China out of war.
In one of her most famous US public appearances, she addressed the US Congress in 1943 in her perfect English, her slender figure dressed in stunning black traditional Chinese dress. She tried to convince Congress that defeating Japan was more important than stopping Germany, and that US forces should concentrate more on battling the Japanese in China.
After the Japanese defeat, she returned to Washington in 1948 to ask for aid to fight the Communists. But many lawmakers had given up on the corrupt and repressive Nationalist government.
Madame Chiang made several other trips to the United States, seeking aid for Taiwan and arguing there would be no peace in Asia until the Communists were overthrown.
``I can ask the American people for nothing more,'' she said during one such trip in 1950. ``It is either in your hearts to love us, or your hearts have been turned from us. But with or without help, we shall fight. We are not defeated.''
As the Generalismo's health deteriorated, control of the Nationalist government eventually passed in 1972 to one of his two sons by a previous marriage, Chiang Ching-kuo. Madame Chiang and her husband had no children of their own, and she had long been on bad terms with Chiang Ching-kuo.
After her husband's death in 1975, Madame Chiang moved to the United States, staying in the stucco Long Island mansion where a large portrait of her late husband decked in full-military regalia hung in the living room. She moved out of the house in 1998 and spent most of her time in her Manhattan apartment.
When President Jimmy Carter announced in 1978 that the United States was breaking off diplomatic relations with Taiwan and establishing formal ties with the People's Republic of China, Madame Chiang remained in seclusion and did not comment.
In a rare public appearance in July 1988, Madame Chiang received a standing ovation when she spoke briefly at the 13th Congress of the Nationalist Party in what was a farewell to her aging comrades-in-arms.
She maintained her uncompromising anti-communist stand and urged the Nationalists to ``rescue our 1 billion compatriots on the mainland.''
The Nationalists eventually gave up the goal of ``retaking the mainland,'' and the party's ranks began to fill with native Taiwanese as the influence of the mainlanders who retreated with Chiang Kai-shek faded away.
In March 2000, the party lost its five-decade control of Taiwan's presidency. Madame Chiang endorsed Nationalist candidate Lien Chan, but few voters paid serious attention to her and Lien was battered at the polls _ an example of her fading influence.