External influence complicates court ruling
( 2003-10-24 10:03) (China Daily)
On August 15, 2003, a revised verdict issued by the Liaoning Provincial Supreme People's Court made waves across the nation.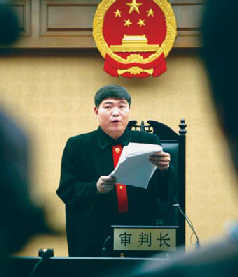 "Many of these criticisms have a point, because there are indeed problems with our legal system, which needs reform," said
Xiao Yang, President of the Supreme People's Court.[newspoto.com.cn/file]
Mafia kingpin Liu Yong had previously been sentenced to death, but the new ruling added a two-year reprieve to the sentence, effectively saving his life.
Soon afterwards, scores of reporters descended on Shenyang, the provincial capital, to find out why the court made the nominally small but essentially significant change, while the charges against the crime boss remained virtually the same. Court officials did not cite any concrete reasons. In a public bulletin, the court attributed the alteration to "specific circumstances relevant to this case".
According to published reports, Liu Yong was a local organized crime boss until 1995 when he started investing in legitimate businesses. However, even then he did not hesitate to resort to violence to solve problems. Court documents show that post-1995 activities by his mob led to 42 people being injured, 16 of them seriously, while one eventually died of his wounds.
As these crimes normally warrant the death sentence under Chinese law, the public suspected that "external forces" were at work in the softening of the verdict. One rumour has it that Liu had such financial and political clout that even while he was in jail "powerful people" were protecting him.
Although this accusation cannot be independently verified, Liu's defence counsel did organize a panel of top-tier legal professors whose opinions were made public.
Criticisms of China's court rulings constitute a major portion of the public's complaints about "legal corruption". Xiao Yang, President of the Supreme People's Court, responded last December that "many of these criticisms have a point, because there are indeed problems with our legal system, which needs reform".
A key area of concern to the reform-minded is judicial independence. "As traditional governance in China is not based on the separation of power, there has never been a judicial apparatus independent of the executive branch," writes He Weifang, a senior professor of law at Peking University.
Professor He explains that China's constitution pledges an independent court, but in the past 100 years the nation's international position as well as its domestic agenda have made it hard to achieve that goal. More importantly, the social awareness and public education necessary to arouse support for such a change have not been widespread. Therefore, the principle basically exists in name only.
Talk of the lack of judicial independence brings to mind images of influential senior officials making persuasive calls to judges. While this cynical scenario is not entirely rooted in the imagination, it hides deeper-rooted and forms of interference, some of which are often applauded rather than frowned upon by the public.
For example, when the case broke in Guangzhou that a graphic student Sun Zhigang was beaten to death during his custody at a police-affiliated clinic, intervention from higher authorities put pressure on the court so that justice was served in favour of the politically powerless migrant worker rather than the local police. Very few media commentators saw it as an erosion of judicial independence. Instead, they deemed it a variation of "divine intervention".
Expert opinion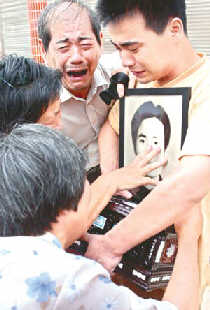 Relatives cry over a framed photo of Sun Zhigang, whose death triggered the abolition of China's repatriation regulation on the homeless. [newsphoto.com.cn/file]

Tian Wenchang, Liu Yong's defence lawyer, wrote many letters appealing to various government agencies to intervene on behalf of his client. "I'm against administrative intervention and all for judicial independence. Everyone knows that intervention is bad for justice. But when one runs out of other forms of recourse, one has to rely on it. This is a vicious circle and it is sad," he complains.

Tian got the opinions of 14 of the country's top legal experts. In a six-page affidavit, they expressed the unanimous view that the original verdict against Liu had been heavy-handed.

"But what is an expert opinion?" asks He Bing, who teaches at the law school of China University of Politics and Law. "It is not evidence. Nor is it an appraisal. It's not a defence either. The expert is not a witness nor is he involved in the case in any official capacity. It is nothing more than academic interference in court rulings."

Interestingly enough, up to 80 per cent of expert evaluations are commissioned by attorneys whose cases need an extra push. "Will they deliver an opinion unfavourable to the attorney's client? I doubt it. They're paid by the attorney, so they have an obligation to help him," wrote one netizen who was angry about Liu Yong's reduced sentence.

Tian Wenchang admits that the experts were indeed paid, but stresses that it was only a nominal fee, hardly the kind of money to make a top-tier legal professor "sell himself out". As a matter of fact, many agree to share their knowledge and opinions out of a sense of justice.

"Some of the cases made me jump out of my seat, the errors were so appalling. As long as we still retain a vestige of justice, we should do something to prevent unjust verdicts," says Chen Ruihua, a law professor at Peking University who has attended many seminars held to solicit expert opinions.

Professor Chen, however, does not see the trend as a positive sign. "It has a lot to do with the court's arrogance, which results in lawyers being ignored and the system losing public respect. Expert opinion is a freak phenomenon born of abnormal circumstances. I wish it did not exist. Wouldn't it be great if our judges could deliver fair verdicts without an outside opinion?"

Yang Tao, who works for the Gaizhou Procuratorate in Jiangxi Province, maintains that although expert opinions give the impression of neutrality, they can mislead the public as well as reinforce the perspective of one of the parties in a lawsuit.

Tian Wenchang explains that expert opinion is just a form of academic discussion. "It is not enforceable. It is for the court's reference only. It depends on the judge how or if it should be taken into account."

According to a survey conducted at the courts of Zhejiang Province, 80 per cent of judges take these opinions seriously. Experts are consulted on difficult cases, said Xiong Xuanguo, who works for the Supreme Court. The Zhejiang survey also found that only 20 per cent of expert opinions were eventually adopted by the court.

At this stage of development in China's legal system, expert opinions bring more benefits than harm, says Zhou Guangquan, associate professor of law at Tsinghua University, "as long as the experts retain their integrity".

Regionalism

One thing that may influence a court ruling more adversely than expert opinion is regional power, which can take the most egregious form or no form at all. A study of hundreds of legal cases over 20 years, from 1979 to 1999, revealed that a court ruling was more likely to favour the local party when the lawsuit also involved a party from a different region. Minxin Pei, senior associate and co-director of the China Programme for the Carnegie Endowment for International Peace, conducted the study.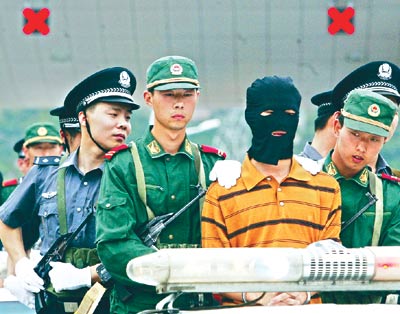 Unidentified suspects in a robbery and kidnap case are paraded in public after their capture in Lishui, east China's Zhejiang Province. Public sentiment sometimes plays a role in verdicts. [China Daily HK Edition]
"Independent courts are impossible if their budgets are controlled by the local government," says Dr Pei in an email interview with China Daily. "The reform measure of giving local courts direct funding from the provincial or central government is a minimum. Local governments will object because they are going to lose influence over courts. But such objection should not be allowed to obstruct the reform because the total costs to society that result from an inefficient and unfair legal system are very large."
Dr Pei suggests that local governments not be allowed to appoint judges, leaving that duty to higher courts or levels of government. "Although this may not ensure full independence, it will be an improvement upon the existing system," Pei concludes.
Liu Xing, professor of law at Sun Yatsen University in Guangzhou, has another idea that he says is cost effective and in step with traditional practices within Chinese politics and the military. "We should install a mechanism that rotates judges from place to place. This will break their over-reliance on "guanxi" and allow them to put their professional knowledge to full use. Random checks of cases should also become routine. Right now we rely on bottom-up reporting or top-down research to ensure that rulings are fair. But there are intrinsic problems with this approach. These people are connected in their official capacity. That's why we find a long chain of accomplices when we uncover a single corrupt person."
"No country has a fully independent legal system. Judicial independence is a product of the political system and the result of political negotiations among various political forces," argues Dr Pei. "As far as China is concerned, the degree of the independence of the legal system at the moment is very low. So it is definitely possible to improve it."
Professor Liu Xing is more pessimistic. He does not see a way out for issues such as funding. "Given China's financial situation, it is still not possible for courts to abolish various fees and depend solely on funding from the central government," he asserts. "If you take a close look at China's legal system, you find that the issue is not imperfect laws but inadequate execution, which is more difficult to address."
In the meantime, Liu Yong's case is being studied at the Supreme People's Court.