Bush visits Pearl Harbor at trip's end
( 2003-10-24 09:49) (Agencies)
U.S. President Bush dropped flowers into the water Thursday at the sunken battleship USS Arizona, a reminder of the terror that struck America more than a half century ago.
Accompanied by his wife, Laura, the president also toured Pearl Harbor in a launch, riding past a nuclear-powered submarine that fired the first Tomahawk missile of the Iraq war. Bush passed U.S. ships back from the war. Sailors stood at attention on the decks.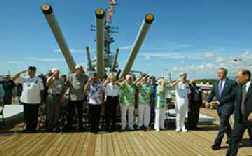 World War II veterans who survived the attack on Pearl Harbor salute as President Bush, second right, is escorted by Ret. Vice Adm. Robert Kihune, right, on the deck of the battleship USS Missouri in Pearl Harbor, Hawaii, Oct. 23, 2003. [AP]

Hawaii was the last stop on a fast-paced trip to Asia and Australia to thank Iraq war allies and to attend a 21-nation summit. The president was ending his journey just like he began it in California a week ago ¡ª with a fund-raising event for his re-election campaign. Republicans in Hawaii are energized by the election of the first GOP governor in 40 years, Linda Lingle.

Campaign spokesman Scott Stanzel said 600 people attended the event, which raised more than $600,000.

Mindful of political battles back home, Bush issued a written rebuke to Senate Democrats who derailed Republican-backed legislation to limit class action lawsuits and large damage awards against corporations, apparently killing the bill for this year. "I am eager to sign it, our economy needs it and I urge those senators who stand in the way to let the will of the people be heard," Bush wrote.

White House officials drew parallels between Japan's sneak attack on Pearl Harbor in 1941 with al-Qaida's attack against the United States on Sept. 11, 2001. The campaign against terrorism was the main theme of Bush's Asian trip, and he reminded the world not to let down its guard.

At the Arizona Memorial, parts of the sunken battleship are still visible at the spot where 1,177 crewmen died. Bush also visited the 45,000-ton battleship USS Missouri, on whose decks Japan signed the documents of surrender on Sept. 2, 1945, in Tokyo Bay.

Bush spoke to about 60 World War II and Korean War veterans on the Missouri. "We're thrilled to be here with you. You set a great example for future soldiers and sailors. I'm so glad to be home," he said.

The president also met with 10 Pearl Harbor veterans, nine men and one woman, all in their 80s. One of them was Richard Husted, a retired naval commander from San Antonio who now lives in Hawaii. "I voted for that man and I'm going to vote for him again," Husted said. "I voted for his father twice."

Bush's father, George H.W. Bush, visited Hawaii in 1991 for ceremonies commemorating the 50th anniversary of the Pearl Harbor attack. This was his son's first visit to Hawaii as president.

Later, the president and first lady read to second-graders at Pearl Harbor Elementary School. As the Bushes entered, the students were asked if they knew who their visitors were.

"George Washington," one shouted. Bush laughed. "You got the first name right," the president said.

After Laura Bush read "Giggle, Giggle, Quack," by Doreen Cronin, Bush took a few questions. One about the White House stumped him.

"How much square footage do you got there?" asked 7-year-old Darrel Florence. Bush laughed and said he did not know. He mentioned that the White House was "a big place and many floors," gesturing with his hands to show the floors.