AP: US raid nets whole Iraqi village
( 2003-10-24 09:36) (Agencies)
American troops in helicopters swooped down on this remote sheepherding village in the desert and detained nearly all the men, one as old as 81, one as young as 13. A month after the raid, apparently aimed at preventing terrorists from slipping across the border from Saudi Arabia, only two of the 79 captives have been freed.
The sweep ¡ª similar to those conducted in Afghanistan by U.S. special operations troops ¡ª came at a time when American officials are concerned that foreign fighters, including those loyal to Saudi exile Osama bin Laden, are crossing into Iraq to join the resistance against the U.S.-led occupation.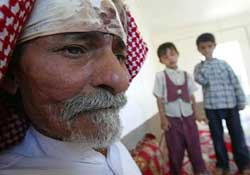 Hawas Sahn Ibrahim rests in his house with his grandsons Faisal and Abdel-Karim, in the village of Habbariyah, in southwest Iraq Oct. 22, 2003. Ibrahim is one of only two men who have returned since almost all the men in the village were detained by U.S. soldiers in a helicopter raid Sept. 10. [AP]

The U.S.-appointed mayor of Habbariyah and its deputy police chief believe the Americans rounded up so many men and boys to punish the village because of suspicions it maintains contact with desert smugglers or infiltrators from across the border, 80 miles away.

U.S. military officers refused to talk about the operation, but knowledgeable American sources, speaking on condition of anonymity, confirmed the basics of the account given to The Associated Press by six villagers, including one who was detained and released.

Their description of what happened Sept. 10 offers the first details of U.S. military operations in this border area as well as one of the first looks at efforts to fight the influx of foreign insurgents as the scope of guerrilla violence against American troops increases.

Villagers say they heard the whir of helicopters at dawn over Habbariyah, a Bedouin enclave of 500 people clustered in an area about the size of two football fields.

The village is in Anbar province, a third of Iraq's territory stretching west, north and south from Baghdad to the borders with Saudi Arabia, Syria and Jordan. U.S. soldiers come under daily attack in the conservative, mostly Sunni Muslim province, a former stronghold of support for Saddam Hussein that includes such hotspots as Fallujah, Ramadi and Khaldiyah.

Over the next 10 hours, villagers say, U.S. troops rounded up men including police, the elderly and teenagers. One woman also was seized. All were restrained with plastic handcuffs and taken to one house.

From there, U.S. troops loaded the captives onto the helicopters and flew them to an air base north of the village.

The woman, the wife of a tribal leader, was released the next day. The men were transported to the Abu Ghraib prison west of Baghdad, once used by Saddam to house political prisoners.

All but two remain there. Those released were 66-year-old tribal chief Sheik Meta'ab al-Hathal and 81-year-old Hawas Sahn Ibrahim.

The sheik's nephew, Thamer Nayef al-Hathal, is the U.S.-appointed mayor of Habbariyah and two nearby villages. He was away at the time of the raid but heard about it from other villagers.

"Sheik Meta'ab was questioned about strangers in the area, a terrorist camp the Americans think is in our area," said the mayor.

He also said the Americans searched every house and confiscated cash and gold jewelry, used as currency among Bedouin, desert tribes with a nomadic tradition.

The next day, the Americans, dressed in desert camouflage and carrying semiautomatic weapons, came to the village the mayor was visiting.

He showed them a certificate from coalition authorities appointing him mayor of three communities, including Habbariyah.

"They told my uncle that strangers visited the village, but he told them the area was a vast desert and that he cannot know everything that happens there," the mayor said.

He quoted the soldiers as saying they were trying to trace the source of a telephone call placed from the area. The only phone the mayor knew of was his own satellite telephone.

"I gave it to them, they checked it, gave it back to me and then retook it," he said. "They still have it."

The AP first learned of the raid on Habbariyah on Wednesday, after Misha'al Khalaf, an 11-year-old from the nearby village of Kasra, complained about detentions there. The day after the raid on Habbariyah, U.S. forces came to Kasra and took nine people into custody, including two of Khalaf's brothers.

"I want to send a letter to my brothers," the boy said, downcast and close to tears.

Sahn Ibrahim, the 81-year-old man who was released, told AP he was never questioned during nearly a month in prison. The only contact he had with the Americans was through an interpreter when he gave his personal details on arrival at Abu Ghraib.

When he was freed, he said, he was given money for transport back to Habbariyah, about 250 miles by road.

"They treated us well and gave the young men soccer balls to play with," he said, squatting on the carpeted floor of his reception room with two grandchildren clamoring around him.

He said he was offered medical treatment in prison for a deep forehead wound suffered years ago. He declined. "I did not want them to operate on me while I was there alone without my children," he said.

The Sept. 10 raid was unusual in its scope and its methods. Soldiers ordinarily conduct raids in Humvees or armored vehicles rather than helicopters.

Yet concern about possible al-Qaeda involvement in Iraq's violence has increased, especially after recent suicide bombings in the capital. Last week, the Arabic television station Al-Jazeera broadcast what it said was an audiotape by bin Laden in which he praised Iraqi fighters as "God's soldiers" and the "first line of defense" for Muslims.

On Wednesday, Lt. Gen. Ricardo Sanchez, commander of U.S. forces in Iraq, said he believed al-Qaeda and affiliated terror groups were operating in the country although no known operatives were in custody. He also said attacks on U.S. troops had increased to as many as 35 a day.