Iran admits it kept secrets from UN nuke watchdog
( 2003-10-24 09:30) (Agencies)
Iran acknowledged on Thursday having been "discreet" about its nuclear program in the past but said it had no more secrets after giving the United Nations what it called a full declaration of all its nuclear activities.
The head of the U.N. International Atomic Energy Agency (IAEA), Mohamed ElBaradei, said Iran's ambassador to the IAEA, Ali Akbar Salehi, delivered the declaration eight days ahead of an IAEA deadline for Iran to prove it has no secret atomic weapons program as Washington alleges.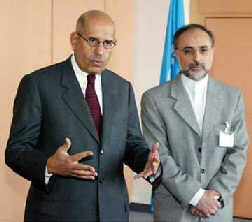 International Atomic Energy Agency (IAEA) chief Mohamed El Baradei (L) talks to journalists as Iran's representative to the IAEA, Ali Akbar Salehi, listens in the Vienna IAEA headquarters Oct. 23, 2003. [Reuters]

"I was assured that the report I got today is a comprehensive and accurate declaration," ElBaradei said.

"It is a large set of documents. We obviously have to start our verification activities (but) it is going to take us time to go through all these documents and reconstruct the full history of the program," he said.

Salehi declined to give any details about the declaration, a stack of papers in a binder about one and half inches thick.

"We have submitted a report that fully discloses our past activities, peaceful activities, in the nuclear field," he said.

However, he said the secretive nature of some of Iran's activities -- which has fueled U.S. concerns that Iran is covertly developing an atomic weapon -- was a natural response to sanctions unfairly imposed on the Islamic republic.

"The important thing to note is that Iran had to do some of its activities very discreetly because of the sanctions that have been imposed on Iran for the past 25 years," Salehi said, adding that they were "legal activities."

"Nevertheless (Iran) had to do them discreetly," he said.

Submission of the report meets a key demand of the Vienna-based IAEA, which set the October 31 deadline.

"I hope we will come to the conclusion that we have seen all past nuclear activities in Iran and that all materials and activities in Iran are under (IAEA) safeguards," ElBaradei said.

BOMB-GRADE URANIUM

The IAEA is particularly keen to have details about the origin of uranium enrichment centrifuge parts, which Iran says it bought on the black market and blames for contaminating two Iranian sites where the IAEA found traces of bomb-grade uranium.

"We should know the origin of materials and equipment to verify the Iranian statement that this (enriched uranium) was the result of contamination," ElBaradei said.

But Salehi indicated this information was not there, as Reuters reported previously, saying it may be impossible to trace their origins as the parts were bought through "intermediaries."

Salehi reiterated his country's commitment to a deal brokered by the foreign ministers of Britain, France and Germany in Tehran on Tuesday, under which Iran pledged to accept tougher IAEA inspections and suspend its uranium enrichment activities.

In a play on President Bush's description of Iran, North Korea and pre-war Iraq as an "axis of evil," Salehi said Iran and Europe had joined forces in an "axis of providence" based on dialogue and mutual respect.

French Foreign Minister Dominique de Villepin echoed Salehi's comments while speaking to reporters in Ljubljana, but told Iran it must make good on its promise to come clean about its nuclear program.

"Now that we have made a path to get out of this crisis, (we need) to act on the basis of this dialogue and confidence," he said. "It's important...that the commitment taken by Iran becomes a fact."

Villepin said he was in close contact with ElBaradei, his German and British counterparts, and Russian Foreign Minister Igor Ivanov over Iran.