China, Australia agree on free trade study
( 2003-10-24 09:12) (China Daily)
Australia and China are expected Friday to agree to conduct a feasibility study into a free trade pact between the two countries.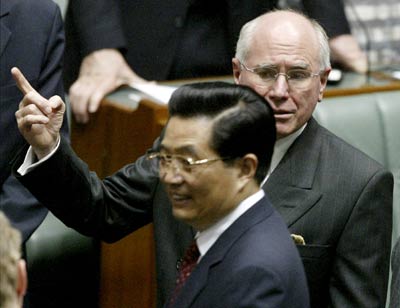 Chinese President Hu Jintao (C) is escorted by Australian Prime Minister John Howard (R) after making his speech to the Australian National Parliament in Canberra October 24, 2003. Hu is the first Asian President to have spoken in Australia's parliament, and spoke of closer ties between the two countries. [Reuters]
Foreign Minister Alexander Downer told Australian Broadcasting Corp. radio Friday that it will be two years before an agreement between Australia and China on discussing a bilateral trade pact delivers any benefit.
"At the end of those two years, if the scoping study is positive in its recommendations...in those circumstances as long as China was by then a market economy, we'd move toward negotiating a free trade agreement," said Downer.
Meanwhile, President Hu Jintao vowed to instill a more vigorous and open economic system and create more business opportunities for overseas enterprises based on equality and mutual benefit.
China will further its opening-up and establish a stable and transparent system for foreign economic management in line with the demands of a market economy and the World Trade Organization, he said, noting China will improve its protection of intellectual property rights.
Hu made the remarks when meeting Australian industry and business groups Thursday. About 20 pivotal Australian commerce representatives attended the meeting.
Acknowledging the positive inroads already made by Sino-Australian economic and trade co-operation, Hu said there are still much broader grounds for synergy as the economies of the two nations are highly complementary.
Hu said China, with its rapid economic growth, will see a sustainable increase in demand for energy and resources, which Australia can provide.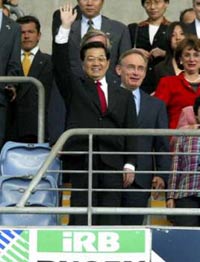 Chinese President Hu Jintao (C) escorted by Bob Carr, premier of New South Wales state (2nd-R), waves to the media during a visit to Telstra Stadium in Sydney's Olympic park, October 23, 2003. Hu is in Australia on a four-day state visit.
Hu said China's campaigns to develop its western regions and revitalize its northeast industrial base will provide a glut of business opportunities, adding Australian investment is welcome.
Warwick Smith, chairman of the Australia-China Business Council, said Australia's business community is "very much encouraged" by prospects for China's development and the potential for mutual co-operation.
On the trade front, China is now Australia's third largest partner and Australia ranks ninth on China's list. Official statistics show that two-way trade grew by a fifth annually over the past five years and the annual trade was in excess of US$10 billion over the past three years.
According to the China Chamber of Commerce in Australia, China's total trading volume is estimated to reach US$650 billion by 2005, bringing extremely bright prospects for China's economic and trading partnerships.
During separate meetings yesterday with New South Wales (NSW) Governor Marie Bashir and Premier Bob Carr, Hu stressed China attaches importance to closer friendly exchanges and co-operation with the state in various fields.
Carr said China is NSW's third largest trading partner and Chinese is the second most spoken language in the state.