Israel plans 323 new homes at W.Bank settlements
( 2003-10-24 08:54) (Agencies)
Israel announced Thursday it will go ahead with plans for construction of hundreds of new homes in Jewish settlements in the West Bank, the second time in a month it has defied a U.S.-backed peace plan on this issue.
Chief Palestinian negotiator Saeb Erekat condemned the project as well as Israel's decision Wednesday to press on with construction of a barrier in the West Bank despite a United Nations resolution demanding it be torn down.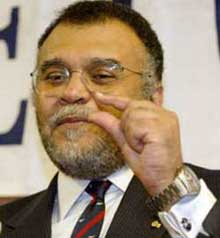 Prince Bandar bin Sultan, Saudi Arabia's Ambassador to the United States, indicates how close he has seen peace efforts between Israel and the Palestinians come before failing in the past, while conducting a rare news conference at Tufts University's Fletcher School in Medford, Massachusetts, Oct. 23, 2003. [Reuters]

Urging the United States to intervene to stop construction of the barrier and the new homes, he added: "Settlements and walls are the number one obstacle to peace."

An Israeli Housing Ministry official said invitations to bid on construction had been announced for 143 new apartments in the Karnei Shomron settlement in the northern West Bank and 180 in Givat Zeev near Jerusalem.

Earlier this month Israel unveiled plans to build more than 600 new homes in Jewish settlements in the West Bank, drawing international and Palestinian condemnation.

The U.S.-backed peace "road map," intended to end three years of violence, freezes Jewish settlement "activity." Palestinians and world leaders say this means a halt to all building at settlements, but Israel challenges this.

"All legal tenders (invitations to bid) within existing communities are not included in the 'road map' according to our interpretation and our understanding," a senior Israeli official said.

The settlement monitoring group Peace Now said the government had published 1,627 tenders for new homes in the settlements this year. It accused Israel of paying lip service to the road map but pressing on with building at settlements.

The YESHA council, which represents the about 230,000 settlers in nearly 150 settlements in the West Bank and Gaza Strip, dismissed the criticism and said the settlers were "righteous, moral and will never be removed."

The international community regards settlements on occupied land seized in the 1967 Middle East war as illegal under international law. Israel disputes this.

PALESTINIAN WOMAN GETS 16 LIFE TERMS

The road map has stalled as Israel has pressed on with building at settlements and attacks on militants it says the Palestinian Authority should rein in, and the militants have staged new suicide bombings in their uprising for statehood.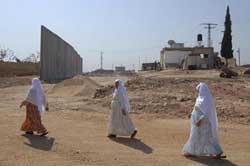 Palestinian women walk next to a new section of the wall Israel is building between Israel and the Palestinian territories near the Palestinian West Bank village of Masha Oct. 23, 2003. [AP]

An Israeli military tribunal Thursday sentenced a women from the Islamic movement Hamas to 16 consecutive life terms in jail for assisting a man who killed 15 people in a suicide bombing at the Sbarro restaurant in Jerusalem in August 2001.

She drove him to the attack by car and had placed a bomb at a supermarket in Jerusalem a week earlier in an attack which caused no serious injuries, the tribunal said.

Israeli media said soldiers shot dead a Palestinian gunmen who shot at an army convoy in the Gaza Strip Thursday evening, lightly wounding two people.

A Palestinian was killed in an explosion in the West Bank city of Ramallah. Israeli military sources said he may have been killed by his own bomb in an accident.

Witnesses said militants in the West Bank refugee camp of Tulkarm killed two Palestinians Wednesday who confessed to collaborating with Israeli forces.