Two anti-war senators protest Bush speech
( 2003-10-23 15:00) (Agencies)
Two senators who staunchly opposed the U.S.-led war in Iraq heckled U.S. President Bush as he spoke to the Australian Parliament on Thursday, but the president shrugged it off, saying "I love free speech."
Both lawmakers, maverick Sen. Bob Brown and Sen. Kerry Nettle, were ordered out of the chamber, but refused to leave.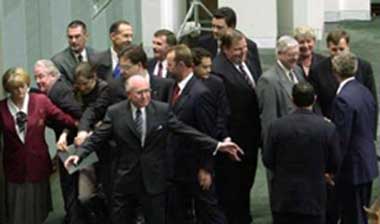 Australian Prime Minister John Howard (front), assisted by parliamentary staff, prevents the Greens Senators Kerry Nettle (3rd, L) and Bob Brown (behind her) away from U.S. President George W. Bush (far R) after his speech at Parliament House in Canberra Oct. 23, 2003. Heckled inside the Australian parliament and jeered by protesters outside, Bush on Thursday defended the Iraq invasion and war on terror, saying Australia and the United States had to lead by example. [Reuters]

Brown was the first to interrupt Bush, as the president was saying that people should be happy that Saddam Hussein's regime had been toppled in Iraq. When a parliamentary official motioned for Brown to leave, he shook his head and stood his ground.

Later, when Bush paid tribute to Australia for promoting peace in Southeast Asia, Brown shouted: "But we are not a sheriff."

It was a reference to Bush's recent comment that Australia was a U.S. sheriff in the region. The comment apparently was intended to portray Australia as being on equal footing with the United States. Instead, it reinforced sentiment among some Asian nations that Canberra was an agent for the Bush administration.

When, Nettle shouted protests about the war in Iraq, Bush smiled and said: "I love free speech."

As Bush arrived at the parliament, his entourage was greeted by several thousand noisy demonstrators, who were banging drums and carrying signs that said: "Bush Go Home," "Go back to Texas" and "Osama bin Bush" Police held back the surging protesters, who were kept about 100 yards away from where Bush entered the building.

Bush was warned in advance by Prime Minister John Howard to expect the Parliament protests, White House press secretary Scott McClellan said. McClellan said Brown later thanked Bush for listening to his protest.

"That's the Australian Parliament for you," McClellan said. He said Bush felt warmly received.