Niagara Falls survivor blames depression
( 2003-10-23 10:01) (Agencies)
The man who walked away virtually unharmed from a plunge over Niagara Falls said he had been suicidal, but the experience made him want to live.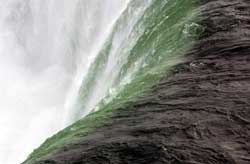 Kirk Jones, of Canton, Mich., took a plunge over this area of the Horseshoe Falls in Niagara Falls, Ontario, as seen Wednesday, Oct. 22, 2003. [AP]

The comments contradict statements from authorities suggesting Kirk Jones was simply a daredevil ¡ª the latest in a long line who have sought to conquer Niagara Falls over the last century.

Jones, 40, was released from the hospital into police custody Wednesday evening, but authorities did not immediately release information on where he was taken.

In a note to a fellow patient who was released from the hospital, Jones said life has much to offer.

"When you are feeling down, just remember the power of the Niagara," said the handwritten note, which Brandon Steward said was given to him by Jones.

In a telephone interview with ABC News, Jones said he did not want to go on living when he climbed over a guardrail and into the churning Niagara River on Monday. "But I can tell you now after hitting the falls I feel that life is worth living," he said.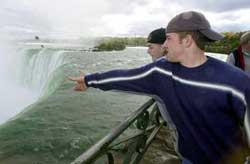 Tom Madison, front, of Stanley, Wis., and his friend John McCullough of Fond du Lac, Wis. make wishes as they throw pennies into the Horseshoe Falls in Niagara Falls, Ontario, Canada Oct. 22, 2003. [AP]

His father, Raymond Jones of Keizer, Ore., told The Associated Press that his son sounded cheerful Wednesday in a phone call from the psychiatric unit at Greater Niagara General Hospital.

"He feels peppy," the 80-year-old father said. "He fully expected to die. He was near death. He knew it. He thinks he was saved for a reason."

The Canton, Mich., native is the only person known to have survived a plunge over the falls without a safety device. Others have ridden in barrels or other protection; a 7-year-old boy wearing a life preserver survived in 1960.

Inspector Paul Forcier said the incident was not being treated as a suicide, but Jones was undergoing a psychiatric evaluation.

Forcier said police were reviewing a videotape shot by a friend who accompanied Jones to the park. Jones will be charged with mischief and unlawfully performing a stunt and could be fined the U.S. equivalent of about $7,600, Forcier said.

Family and friends have said Jones had been considering the jump for years. Eric Fronek, 21, told ABC that his friend had discussed it in the past, but was driven to act by depression.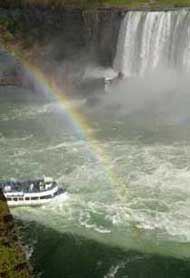 The Maid of the Mist tour boat cruises to the base of the Horseshoe Falls under a rainbow in Niagara Falls, Ontario, in Canada, Oct. 22, 2003. [AP]

"I think he just reached the point where whatever happened was the best plan for him," Fronek said. "If he made it, he might benefit with money. If he died, so be it."

Jones recently lost his sales job when his parents shut down the family business, which made measuring tools for auto parts manufacturers. His father said he closed the business because of the slow auto economy.

"He was a good salesman," the elder Jones said. He said surviving the fall has given his son an impetus to look for work after first visiting his parents in Oregon.

If Jones was suicidal, he would not be the first survivor to experience a change of heart, a suicide expert said.

"A lot of times people, when they've been spared, get this feeling that somehow it's been intended, that they have a mission or something," Dr. Richard Seiden said.

Jones said his change of heart occurred when he jumped into the water. "At that point I wished I had not done it. But I guess I knew it was way too late for that," he said.

Going over the falls was like "being in a giant tunnel, going straight down, surrounded by water," Jones told ABC. He said he "hit hard," was turned upside down in the water below, then pushed out far enough by the current to climb onto a rock.

Jones was expected to appear in court for a bail hearing Thursday.