Joint naval operation held off east coast
( 2003-10-22 00:54) (Xinhua)
Chinese and Pakistani warships carried out a joint rescue exercise in the East China Sea yesterday off the coast of the biggest city in China.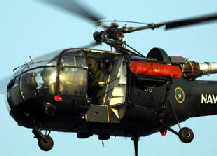 A Pakistani helicopter winches a wounded sailor to safety as part of a joint rescue exercise with the Chinese navy in the East China Sea October 22, 2003. [Xinhua]
It was the first time Chinese naval forces had conducted joint exercises with its foreign counterpart in a non-traditional security field.
The operation, code-named Dolphin 0310, was launched early in the afternoon from Shanghai. It involved one Pakistani destroyer and a supply ship as well as a Chinese frigate and supply ship.
The Chinese supply ship was used as a civilian vessel that had caught fire. It sent out distress signals after sailors were unable to control the blaze -- some of them had been badly burned.
After picking up the signals, the passing Chinese and Pakistani warships swung into an emergency rescue operation, which was concluded later in the day.
The exercise also included searching for the blazing ship from both sea and air, relocating wounded sailors with ship-borne helicopters and putting out the fire.
In recent years, Chinese military forces have stepped up their co-operation in non-traditional security fields both regionally and internationally, under the new security concept of "mutual trust, mutual benefit, equality and co-ordination,'' said a leading officer with the Foreign Affairs Office under the Chinese Ministry of National Defence.
The ministry has pledged that the Chinese Navy will continue to enhance its exchanges and co-operation with foreign counterparts to safeguard peace and prosperity in the Asian-Pacific region and the rest of the world.
Bubur, the Pakistani destroyer, and NASR, the supply ship, arrived on Saturday for a five-day visit.