Ancient instrument to be revived on stage
( 2003-10-22 08:39) (China Daily)
The ongoing sixth Beijing Music Festival will present a unique guqin improvisational concert tonight at an equally unique venue, the ancient-style Dongyuan Theatre near the Forbidden City.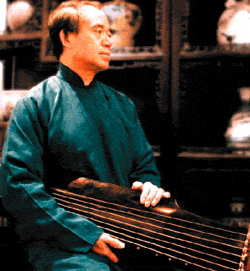 Li Xiangting, 63, poses with a seven-stringed in Beijing. [China Daily File Photo]


Li Xiangting, a 63-year-old master player, will share his understanding of poetry from the Tang Dynasty (AD 618-907) on the seven-stringed zither-like instrument, which dates back at least 5,000 years to the origins of Chinese civilization.

Guest artists Zhang Junying and Qu Xianhe will recite the poems for which Li will play the musical accompaniment. The audience will be encouraged to suggest other poems, for which Li will improvise as he did in successful concerts in the past few years.

When the United States spaceship Voyager was launched in 1977 to search for intelligent creatures outside our solar system, a recording of guqin music played by Guan Pinghu and a picture of the Great Wall were placed on board to represent Chinese culture.

The United Nations Educational, Scientific and Cultural Organization listed Chinese Kunqu Opera among the first group of masterpieces of oral and intangible cultural heritage in May 2001. China has since applied for guqin music to be included in the list.

Yu Long, artistic director of the Beijing Music Festival, said: "Historically, the guqin has been viewed as an important symbol of Chinese culture and the instrument most expressive of the essence of Chinese music, so the music festival held in Beijing should present such a unique Chinese concert."

His choice of musician was Li Xiangting, one of the country's most influential contemporary guqin players and one who has devoted himself to promoting the ancient Chinese art both in China and abroad.

Li is a professor with the Central Conservatory of Music in Beijing and has taught about 500 students from around the world since 1963.

He has performed and lectured in many countries and regions. He has held more than 40 recitals, including the world's first guqin recital at the Durham Oriental Music Festival in England in 1982 and in the Theatre de la Ville in Paris in 1992.

Born into a Manchu family in Northeast China's Jilin Province, Li showed special interest in music, literature and painting when he was still a boy.

Before moving to Beijing at the age of 17 to follow guqin master Zha Fuxi, Li had already been good at playing the xiao, a vertical bamboo flute that is widely seen as the most ideal instrument to accompany the guqin.

To improve his artistic sense in a comprehensive way, he also learned traditional painting from Fu Xuezhai and Pan Su.

In 1958, he entered the Central Conservatory of Music to learn the guqin from Wu Jinglue and he has stayed with the conservatory as a faculty member since graduating in 1963.

Li said his improvisation can be traced back to when he learned to play the xiao with some of his friends. Feeling that few xiao pieces could express his emotions sufficiently, he freely played some invented tunes. After mastering hundreds of ancient guqin pieces involving hundreds of difficult skills, he felt free enough to improvise on that instrument.

However, improvisation was not then so common on the Chinese music scene.

In 1989, Li went to England to study improvisation on the guqin at Cambridge University. He taught the guqin and xiao as a visiting scholar in London University's Asian and African music research centre.

Li's improvisation on the guqin does not involve producing tunes wantonly. Instead, he will play a well-structured piece with a certain theme or inspiration.

He said that, according to the traditional style of guqin music, there are 10 rules for improvisation, from starting off to developing and then reviving a melody.

The virtuoso is an outstanding composer of our time. His works have become master pieces of contemporary guqin music, such as "Sanxia Chuange (Yangtze Gorges Shanty)" and "Fengxue Zhulu (Road-Building in a Snowstorm)."

Li is also an expert in painting and ancient poetry. Many of his paintings have been collected by individuals and organizations in China and abroad.

The Beijing Music Festival website (www.superticket.com.cn) contributed to this article.