Six-party talks urged to go on
( 2003-10-22 01:27) (China Daily)
China hopes the momentum of the six-party talks focusing on the Korean nuclear issue can continue by all groups involved adopting flexible attitudes, a Foreign Ministry spokeswoman said yesterday.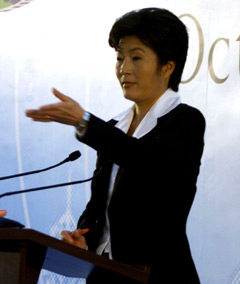 Zhang Qiyue (file photo)

Zhang Qiyue said Chinese President Hu Jintao and US President George W. Bush discussed the matter during their meeting on Sunday in Bangkok, Thailand.

A very important point in the process of dealing with the issue is to solve the security concern of the Democratic People's Republic of Korea (DPRK), she stressed.

Both leaders emphasized that the six-party talks are an important step towards a peaceful solution, and all groups involved should continue with their efforts, she said.

The nations that attended the first round of talks in Beijing in August were the DPRK, the Republic of Korea, the host country, the United States, Russia and Japan.

In relation to Sino-US relations, Zhang said China would like, along with the United States, to push forward the constructive and co-operative relationship.

During their meeting, Hu told Bush that Sino-US relations have maintained strong development growth, the spokeswoman said.

The frequent visits to China by some US senior officials recently have helped reinforce the development of bilateral ties, Zhang noted.

On the Taiwan question, Zhang said the US had reiterated its commitment to the three Sino-US joint communiques and not to support "Taiwan's Independence.'' Bush also reaffirmed this stance earlier this week, she added.

On the deteriorating situation in the Middle East, Zhang said China is calling on all parties involved to keep restraint and to ease the situation through peaceful negotiations.

On October 17, Wang Shijie, the Chinese special envoy to the Middle East, was dispatched with the hope of playing a positive role in promoting peace and stopping the violations that are occurring in the region.

The spokeswoman also said the recent visit by Vice-Foreign Minister Wang Yi to Pakistan had laid the groundwork for the upcoming visit by Pakistan President Pervez Musharraf to China, who will attend the Boao Forum for Asia.