Long March rocket fires two satellites into orbit
( 2003-10-22 01:27) (China Daily)
China yesterday successfully launched a satellite jointly developed by China and Brazil from the Taiyuan Satellite Launch Centre in North China's Shanxi Province.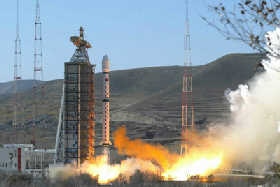 A Long March IV B carrier rocket blasts off into the sky at the Taiyuan Satellite Launch Center in North China's Shanxi Province October 21, 2003, carrying an earth resources satellite jointly developed with Brazil and a China-made Chuangxin I (Innovation I) into orbits. [Xinhua]

The satellite, the second of four the two countries are developing to chart land and sea resources, was launched atop a Long March 4-B carrier rocket at 11:16 am.

The Chinese-Brazilian satellite reached its pre-set orbit 13 minutes after lift-off.

A smaller, Chinese-made satellite, also launched by the centre, reached its orbit 40 seconds later.

Yesterday marked the 30th consecutive successful launch with a Long March booster.

The Chinese-Brazilian satellite will monitor changes to land resources, survey farm and grasslands, monitor natural and human disasters, offer information on aquatic farming and environmental pollution, and explore mineral resources.

According to the agreement reached by the Chinese and Brazilian governments, the sensing data products produced by the satellite can be sold to third countries.

The satellite will operate for two years and is the second of its type to be sent into orbit developed by China and Brazil.

Foreign Ministry spokeswoman Zhang Qiyue said the latest successful launch will boost the strategic partnership between China and Brazil.

It also signifies an important step forward in high-tech co-operation between the two countries.

Chinese President Hu Jintao and Brazilian President Luis Inacio Lula da Silva have sent letters of congratulations to each other, Zhang said.

She added that the two countries will also jointly develop the third and fourth resource satellites.

The two countries launched their first earth resources satellites in October 1999.

"The satellite launched today will replace the first one to serve the development of two countries,'' said Sun Laiyan, vice-director of China National Space Administration.

China will control the satellite launched yesterday for 18 months, then turn over command to Brazil. Sun said the two countries have invested 1.5 billion yuan (US$180 million) in developing and launching the satellite.

China has paid 70 per cent and the remaining 30 per cent has come from Brazil.