South Korea says has no proof yet of 2nd North missile
( 2003-10-21 16:41) (Agencies)
South Korea's military said it had no evidence so far the North had test-fired a missile on Tuesday in what would be the second such attention-grabbing launch while Pacific Rim leaders met to discuss its nuclear ambitions.
Earlier, Japan's NHK television said North Korea had apparently launched a short-range surface-to-ship missile, following a test-firing on Monday that U.S. officials said they regarded as an attempt to steal the summit show.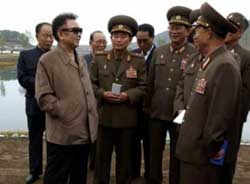 DPRK leader Kim Jong-il (2nd L), seen in this undated photo released by Korea Central News Agency Oct. 21, 2003, speaks to generals during an inspection tour of a farm controlled by a Korean People's Army unit somewhere in DPRK. [Reuters]

But South Korea, which seeks to keep ties with North Korea on an even keel, said it had no immediate proof of a second test launch, although there were conflicting signals about the likelihood.

"Our system did not spot any missile launch today by North Korea," Kim Hyung-kyu, a spokesman for the Joint Chiefs, told Reuters. "So, according to our analysis, the report is not true."

A spokesman for the South Korean Defense Ministry said it had not been able to confirm the report.

"This is what we can say for now," he said. "But we cannot say the NHK report is not true for sure."

In Tokyo, Japan's Defense Agency said it had received a report "that North Korea may have fired a surface-to-ship missile from its east coast this morning."

"We don't know the details but, as far as we know, missiles of this type have a range of 100 km," a spokesman said. This is a distance of 60 miles. No further details were available.

U.S. President Bush and other Asia-Pacific leaders were wrapping up a summit on Tuesday that included talks on Pyongyang's nuclear weapons program as well as world trade.

On Monday, the North fired a similar missile between the Korean peninsula and Japan in what Seoul said appeared to be part of military exercises by North Korea. That was the third such launch this year.

Japan is particularly sensitive about the North's missiles.

In similar vein, North Korea's media reported leader Kim Jong-il visited a military farm on Monday. It was his first reported public appearance in 40 days.

Kim, 61, was last seen in public on September 9, the 55th anniversary of the founding of North Korea.