Three astronauts board space station
( 2003-10-21 11:24) (Agencies)
A capsule carrying a three-man crew docked with the International Space Station Monday, bringing letters from home for two astronauts aboard the platform that depends on Russia as its lifeline to Earth.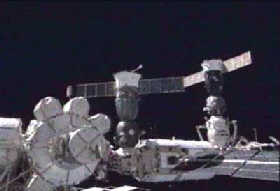 A NASA video frame grab shows two Soyuz spacecraft docked at the orbiting International Space Station (ISS), after the space capsule (R) carrying a U.S.-Russian crew docked successfully October 20, 2003. [Reuters]
The astronauts, who blasted off in their Soyuz TMA-3 vessel Saturday from Russia's Baikonur cosmodrome in Kazakhstan, performed three hours of checks before crawling through a hatch and floating, weightless, into the station. "Everything is going to plan -- the hatch is open," a mission control official said. "I can see the crew floating into the space station."
NASA astronaut Michael Foale and Russia's Alexander Kaleri will spend 200 days on the US$95 billion orbital platform, while Spaniard Pedro Duque will carry out a week of experiments before returning home with the outgoing team.
U.S. astronaut Edward Lu and Russian Yuri Malenchenko have not seen anyone but each other for six months, though Malenchenko overcame the initial objections of Russian space officials to marry his fiancee via a satellite video link in August.
News agencies said the newcomers brought fresh fruit and other treats for the traditional celebratory dinner staged on the arrival of a fresh crew. They also brought presents and letters from Malenchenko and Lu's families.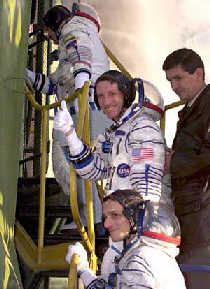 International Space Station astronaut Michael Foale (C) and his colleagues Alexander Kaleri, of Russia, (top) and Pedro Duque, of Spain, enter the Soyuz TMA-3 craft at Baikonur cosmodrome October 18, 2003. Foale, the next commander of the International Space Station, will become the first U.S. astronaut to serve a second, long-duration tour in orbit. [Reuters]
The ISS project's survival depends on Russia, which has launched all manned and cargo flights to the station since the United States grounded its shuttles after the U.S. Columbia shuttle disintegrated on re-entry in February, killing all seven crew.
Funding concerns plague the ISS, with Russia saying it needs more money to continue servicing it.
The head of RKK Energia, which makes the Soyuz and Progress craft for manned and cargo flights, said Monday the company had not received promised funds. It called on the Russian government to pay up.
"If we do not receive the means soon, the Russian side could pull out...then American and European partners, who have already invested billions of dollars in the ISS, will suffer," news agencies quoted Yuri Semyonov as saying.
Russia has asked the United States and other participants for more money to help pay for construction of new Soyuz ships. To raise funds, it has started sending space tourists to the ISS for US$20 million a ride.
But the U.S. officials say Russia failed last year to carry out all agreed launches and should now make up the shortfall.
Uncertain finances could prompt a delay in the launch of the next Progress cargo ship from November to January.