Hu calls for balanced development
( 2003-10-21 01:58) (China Daily)
Asia-Pacific Economic Co-operation (APEC) members should take effective measures to balance economic and social development, President Hu Jintao suggested during the annual meeting on October 20, 2003.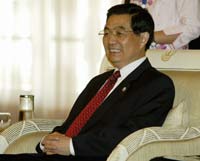 Chinese President Hu Jintao enjoys a lighter moment during the meeting of the leaders of the Asia-Pacific Economic Cooperation (APEC) at the government house in Bangkok October 20, 2003. [Reuters]
"Only with proper co-ordination can development be long-lasting,'' he said during the first retreat of the 11th APEC Economic Leaders' Meeting, according to a Foreign Ministry spokesman.
Hu said member economies should push for scientific progress and technological innovation, which are of vital importance for sustained economic development.
China has proposed the Initiative of Innovative APEC, expecting certain guiding principles to be formulated for the region's scientific and technological innovation.
It plans to hold a high-level workshop in Beijing in February to discuss the issue of science and technology intermediary.
"While pushing for economic growth, we should work hard to promote the co-ordinated development of the economy and society, and of cities and rural areas, and promote a harmonious co-existence between man and nature so as to rest development on a more solid foundation,'' Hu said.
He proposed that APEC -- a major forum facilitating economic growth, co-operation, trade and investment in the Asia-Pacific region -- reinforce its social development links, in particular in relation to public health, job creation and social security.
In an effort to do so, China plans to sponsor some labour and social security activities next year.
Hu said stability is a prerequisite for development and APEC members should enhance mutual trust and endeavour to try and achieve the goal.
He also suggested that the 21 APEC members should step up the mutual opening up of markets and improve the multilateral trading system.
Hu said the world's multilateral trading system is currently facing new challenges -- mainly in the form of rising protectionism, new trade barriers and frequent trade friction. They have combined to create difficulties, particularly for developing countries, in relation to their development, in addition to hampering global economic recovery and growth.
APEC members should renew their commitment to the Bogor Goals of free and open trade and investment and at the same time, work together to reject trade protectionism, remove trade barriers and resolve any trade disputes, he added.
Talking about the failure of last month's Fifth World Trade Organization Ministerial Conference, Hu said the main reason for the unsatisfactory outcome was because the negotiations were not balanced enough to reflect the interests of all parties, particularly the concerns of developing countries.
"I hope all groups will demonstrate their political will, take a flexible and pragmatic approach and move ahead the new round of talks to achieve early fruition,'' he said.
The president also revealed his ideas for APEC's reforms.
Hu said the APEC approach, which features respect for differences, equality, mutual benefit, voluntarism and consensus, should be upheld.
And he said the bloc should gear its co-operation more towards business communities and the general public.
"The APEC Business Travel Card Scheme, which is well-received in the business communities, shows what APEC can accomplish if it really wants to be of help,'' Hu said.
It is aimed at helping business people move more easily within the APEC bloc. The Chinese Government will formally implement the scheme next month.
China has also adopted a series of trade facilitation measures in customs clearance and inspection and quarantine, which are designed to cut down business costs.
Hu said APEC should embrace reform and innovation by adapting itself to changing circumstances.
It should also conduct necessary reform and readjustments and strive to become more relevant.