Big-four banks face challenges
( 2003-10-20 10:40) (eastday.com)
Though all the big-four state-owned commercial lenders on China's mainland last week reported sterling performances in the first three quarters of this year, their future business outlook will face great challenges from both foreign counterparts and the central government's requirement regarding bad loan ratio.
The Industrial and Commercial Bank of China, Bank of China, China Construction Bank and the Agricultural Bank of China posted considerable rise in profit in the first nine months of this year.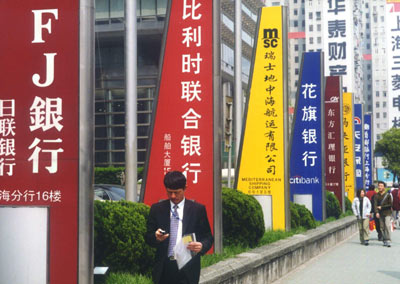 A man walks past the banners of several foreign banks before a building in Shanghai. [newsphoto.com.cn]
The ICBC, the largest lender on China's mainland, said that its operating profit hit 46.19 billion yuan (US$5.56 billion) during the period, up 39 percent from a year earlier.
Its nonperforming loan ratio declined by 4.3 percentage points to 21.56 percent at the end of September from the beginning of this year.
The other big-four banks also reported better assets quality during the period.
However, industry officials said they can hardly meet the People's Bank of China's requirement to reduce their average NPL ratio to below 15 percent by 2006 if the banks do not adopt other strategies.
"Our analysis indicates that given average loan growth of 8 percent in the past three years and continued NPL reductions, the banks can narrowly achieve that target," said Peter K.K. Chan, a partner with Ernst & Young's Transaction Advisory Services.
Banks may have disposed of the easiest NPLs but the hardcore bad loans still remain, said Ernst & Young in its "2003 Annual Review Nonperforming Loans in China" released last week.
"Banks would favor a move by the PBOC and the Ministry of Finance to fund the purchase and sale of a second wave of NPLs to the asset management companies," said Chan.
China set up four asset management companies in 1999 to handle 1.39 trillion yuan in NPLs from the big-four banks.
The report also said that resolving the NPL issue has become a primary objective for them as some of the big-four lenders are preparing their initial public offerings.
The China Construction Bank and Bank of China have announced they want NPL ratios of less than 10 percent by 2004 or 2005.
Challenges from overseas bankers are also looming in the domestic banking market which will be fully opened to them by 2007.
Many global banking giants, including the Hongkong and Shanghai Banking Corp and Citibank, have already launched retail forex banking services to domestic residents.