Three Israeli soldiers killed, reservists called up
( 2003-10-20 08:53) (Agencies)
Gunmen killed three Israeli soldiers in an ambush in the West Bank on Sunday as mounting violence prompted Israel to call up several hundred reservists to bolster its forces in the occupied territories.
The attack, one of a series of violent incidents at the weekend that dealt fresh blows to a stalled U.S.-backed peace "road map," occurred in the Palestinian village of Ein Yabrud, north of the West Bank city of Ramallah.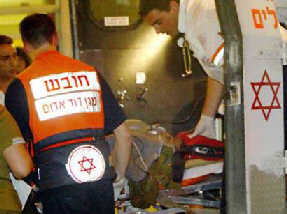 An Israeli who was injured in an ambush in the West Bank is taken into a Jerusalem hospital October 19, 2003. Gunmen killed three Israelis and wounded at least one in an ambush on a West Bank road north of the city of Ramallah, an Israeli security source said. [Reuters]

The Al Aqsa Martyrs Brigades, a militant group with links to Palestinian President Yasser Arafat's Fatah movement, claimed responsibility for the attack. Israel blames Arafat for fomenting violence, a charge he denies. "A patrol of four of our soldiers was attacked from behind by four terrorists... They surprised the soldiers and opened fire and killed three," Major-General Moshe Kaplinsky, commander of Israeli forces in the West Bank, told reporters near the scene of the attack.

Kaplinsky said the attackers took the soldiers' guns and fled.

In a statement faxed to Reuters, the Brigades said the attack in response to "Zionist massacres against our people" and Israeli raids in southern Gaza in which Palestinian officials say 15 people have been killed in the past week.

"There will be more operations against occupation soldiers until they leave our land," the group said.

VILLAGE PUT UNDER CURFE

The Palestinian village was placed under curfew as soldiers searched house-to-house for the attackers, backed by helicopter gunships overhead, witnesses said.

Israeli Justice Minister Yosef Lapid condemned the attack and blamed Palestinian leaders for not cracking down on militants.

"These madmen causing us sorrow and pain are also causing the Palestinians a deterioration into helplessness," Lapid told Israeli television.

In other violence on Sunday, soldiers wounded an 18-year-old Palestinian in the West Bank town of Jenin when they opened fire on a group of stone-throwers, Palestinian medics said.

Israeli troops pressed on with searches in a refugee camp in southern Gaza's Rafah district for tunnels which Israel says are used to smuggle weapons in from Egypt.

Earlier on Sunday, Israel called up several hundred reserve soldiers to serve in the West Bank and Gaza Strip because of rising violence and fears of a new wave of suicide bombings.

Asked about the call-up, army spokeswoman Ruth Yaron told Israel Radio: "We are facing another wave of terror."

Yaron said the reservists would plug gaps caused by cuts in defense spending. She gave no figure but military sources said several hundred troops had been called up.

Chief Palestinian negotiator Saeb Erekat said: "It's an indication that the Israeli government will continue their aggression, incursions and curfews and this won't lead us anywhere."

Three members of Arafat's Fatah movement flew to Washington on Sunday to meet Democrat members of Congress and discuss proposals for a truce. They have no official talks planned with U.S. government leaders.

Israel has said any truce should not replace a crackdown on militants by the Palestinian Authority. An Israeli official said the trip to Washington was an attempt to "revive a dead horse."

Defense Minister Shaul Mofaz told the cabinet on Sunday that despite the setbacks "it would be incorrect to shut the door" on the road map, and that Israel still sees the plan "as a framework in the context of advancing on the Palestinian issue."