Heart scare for Blair amid tough year over Iraq
( 2003-10-20 08:49) (Agencies)
British Prime Minister Tony Blair received electro-cardiac treatment to regulate heart palpitations on Sunday as his first known health scare came on top of a gruelling year over the Iraq war.
Blair was released "well and in good spirits" after nearly five hours of treatment at a London hospital, his office said.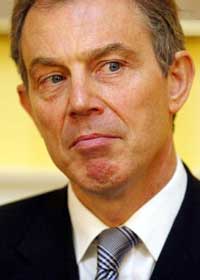 Britain's Prime Minister Tony Blair listens to the Romanina Prime Minister Adrian Nastase, unseen, during a media conference inside 10 Downing Street, London in this March 11, 2003 file photo. Blair was admitted to London's Hammersmith hospital Sunday night, Oct. 19, 2003 for checks after complaining of feeling ill with a rapid heartbeat. He later returned home and was feeling 'fine' his office said. [AP]

Although doctors told Blair, 50, to ease off for a day, a Downing Street spokesman said there were no serious repercussions from his bout of irregular heart rhythms.

"The hospital says this is a relatively common condition and is easily treated," the Downing Street statement said.

"He is well and in good spirits."

Blair keeps himself fit with tennis and treadmill workouts, but has had an exhausting year dealing with the Iraq war followed by a damaging inquiry into the suicide of a weapons expert which has eroded the government's popularity.

Blair first felt "under the weather" while staying at his country residence Checkers, the statement said.

He was taken to Hammersmith hospital, where doctors regulated Blair's heart beat via electric shock in a procedure called "cardio-version."

"This was completely successful, he was in hospital for four to five hours and he is now back in Number 10 (Downing Street)," the spokesman said. "There is no reason why this should reoccur. They have advised him to rest for 24 hours."

"BIT OF A SHOCK"

Medical experts said the condition was mildly worrying but easily-manageable.

"I should think it gave him a bit of a shock, but it isn't actually a very life threatening condition," cardiologist Dr Mark Dancy, of London's Central Middlesex Hospital, told BBC TV. "It's nothing to do with heart attacks."

Blair's office said his Foreign Secretary Jack Straw would take his place on Monday to give a statement to parliament on the EU meeting the prime minister attended last week.

Blair would, however, hold some meetings during the day "and will be back full-time at his desk on Tuesday morning."

Blair took over the Labour Party when his predecessor John Smith died of a heart attack in 1994.

The youngest prime minister since 1812, he has a reputation as a keep-fit enthusiast and even joined the equally fitness-keen President Bush in the gym on a recent trip to the United States.

"I feel great, physically. I do more exercise today than I've done since I was at school," the father-of-four said in an interview earlier this year for his 50th birthday.

"I pay more attention to looking after myself, I watch my diet a bit. But really I find it's exercise that's fantastically helpful for coping with stress."

Despite that, Blair has looked drawn through much of 2003, first as he sold an unpopular war to skeptical Britons, then when critics rounded on him for his office's role in the outing of the name of scientist David Kelly, who committed suicide.

His biggest political enemy, Conservative leader Iain Duncan Smith, sent his best wishes to Blair. "I very much hope that he makes a swift recovery and I send him and his family all best wishes at this difficult time," he said.

Blair's political foes will be gunning for him again at the end of the year when Lord Hutton, leading the inquiry into scientist Kelly's death, delivers his final report.

Just days ago, a final witness to the inquiry said Blair had chaired a meeting promoting the leaking of Kelly's name -- in contravention to Blair's public assurance he played no role.