US stands firm on one-China policy
( 2003-10-20 08:25) (China Daily)
US President George W. Bush indicated the United States will not change its policy on Taiwan and will stick to backing the one-China policy in opposing independence for Taiwan, President Hu Jintao told reporters yesterday after a meeting with Bush.
Hu said the US president gave such assurances when the two leaders met before the annual Asian-Pacific Economic Co-operation (APEC) meeting in Bangkok, Thailand.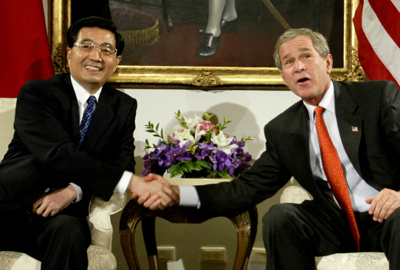 Hu shakes hands with Bush. [Reuters]
Besides the US president, Hu yesterday held separate meetings with Russian President Vladimir Putin and President of the Republic of Korea (ROK) Roh Moo-hyun, exchanging views on major international issues. They included Iraq and the nuclear issue in regard to the Democratic People's Republic of Korea (DPRK).
On the DPRK crisis, Bush said the United States highly appreciates China's positive role in pushing for a peaceful resolution of the issue and supports the Beijing talks process.
"We talked about how to advance the Beijing talks, how to achieve our mutual goal, which is a weapons free peninsula, as well as addressing the security concerns of North Korea within the context of the six-party talks,'' Bush said when jointly meeting with the press after he and Hu held talks.
Hu told Bush that China appreciates the US repeating its commitment to solve the nuclear issue through continuing peaceful dialogue. He added that China is willing to step up consultation and co-operation with all parties.
The DPRK nuclear issue was a hot topic in Hu's separate meetings with Putin and Roh Moo-hyun.
Hu and Putin reached consensus that six-party talks in Beijing are instructive.
They vowed to work together to push all parties to the Beijing conference table for more dialogue.
The issue of Iraq was also a discussion topic.
Noting that the new resolution on Iraq passed by the United Nations Security Council is conducive to solving issue within the UN framework, the Chinese and Russian leaders agreed that it is urgent to resume social order and have Iraqis govern themselves as soon as possible to safeguard independence, sovereignty and territorial integrity.
They pledged to continue close contact and push for UN involvement in regional and international problem solving.
In his meeting with Roh Moo-hyun, Hu said China and the ROK should work together to continue the Beijing talks to safeguard peace and stability of the Korean Peninsula.
Bush said a sound US-China relationship is very important for the United States and he will continue to further develop bilateral ties, adding he is looking forward to Premier Wen Jiabao's upcoming US visit.
Bush expressed congratulations on China's success in its first manned space flight.
Putin also conveyed congratulations to Hu.
"We will insist on the basic principles of peaceful reunification and one country two systems and try our best to peacefully solve the Taiwan question. However, we will definitely not tolerate Taiwan independence,'' a foreign ministry spokesman quoted Hu as saying.
Hu said the Taiwan leader has recently taken a series of actions challenging the one-China principle and jeopardizing Sino-US relations, which is extremely dangerous provocation.
He said China appreciates the US side restatement on the one-China policy, and its opposition to Taiwan's independence.
Turning to the RMB exchange rate, Hu said China will explore the rate-forming mechanism in its financial reforms.
Noting that China has recognized the concern over its US trade deficit, Hu said China will take positive measures to promote balanced trade through dialogue and consultation. Bush said that is conducive to solving existing trade problems.
Bilateral relations develop healthy and smoothly
Hu called upon the US side to relax restrictions on exports to China so that bilateral trade can develop in a healthy manner.
Bush said trade relations with China are important for the United States and the US side will commit itself to enhance such relations.
In a separate meeting, Hu told Canadian Prime Minister Jean Chretien that China is willing to work with Canada to explore new bilateral co-operation so balanced two-way trade can develop.
Bilateral trade volume hit nearly US$8 billion last year and is expected to exceed US$10 billion this year, Hu said.
Chretien said he is looking forward to enhancing ties through his sixth visit to China on October 21-24.
In his meeting with Chilean President Ricardo Lagos Escobar, Hu said Sino-Chilean relations are now at the best time in history.
Hu and Lagos agreed that APEC, a major economic co-operation forum in this region, should play a positive role in the development of the world multilateral trading system and equitably reflect the concerns of developing nations. Chile will host next year's APEC meetings.
Yesterday, Hu also met and Thai Prime Minister Thaksin Shinawatra.
The president wrapped up his two-day visit to the Kingdom of Thailand on Saturday.
Hu said the fact that Thailand is his first presidential visit in Southeast Asia indicates the importance the new Chinese leadership attaches to its ties with Thailand.
He proposed that the two sides maintain exchanges of high level visits so that their leaders can keep close consultation on major issues and further consolidate political foundation for bilateral ties.
Hu called for expansion of bilateral economic and trade co-operation and enhancement of partnership in culture, education and security.
The president said China and Thailand should strengthen their exchanges between their parliaments, parties and among their people -- especially the youth -- to cement social foundation for their traditional friendship.
Thaksin agreed with Hu on his proposals to lift bilateral ties to a higher level, saying that his country will firmly stick to the one-China policy and carry out comprehensive co-operation with China in political, economic and trade and financial areas.
The two leaders witnessed the signing of five bilateral co-operation documents including an agreement on the establishment of a joint committee on trade, investment and economic co-operation.
President Hu also met the leaders of Papua New Guinea and Viet Nam yesterday.