Japan to pay China 300m yen for Qiqihar incident
( 2003-10-19 11:25) (Xinhua)
The Japanese government has decided to offer 300 million yen (about 2.7 million US dollars) to China as compensation for the harming incident caused by abandoned chemical weapons in China, Chinese Foreign Ministry spokeswoman Zhang Qiyue said here Sunday.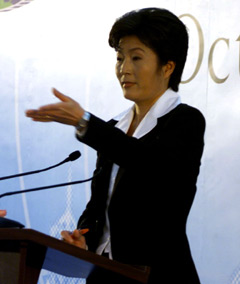 Zhang Qiyue (file photo)

The incident greatly hurt the Chinese and harmed their the living safety, which cannot be made up for with any sum of money, she said responding to a question on the follow-up issues of the chemical weapons abandoned in China by Japanese army during World War II.

A fatal toxic gas leak from abandoned Japanese chemical weapons killed one person and injured 42 others after barrels of mustard gas were dug up at a construction site in Qiqihar in northeast China's Heilongjiang Province on Aug. 4.

The spokeswoman noted that this incident caused heavy civilian casualties and seriously disturbed the normal life of local residents.

The Japanese side should fully recognize the vital consequences and political impacts from this incident, keep its commitment on the issues as soon as possible, and quicken the process of destroying abandoned chemical weapons in China, she said.

To settle the incident, Chinese and Japanese authorities in charge of foreign affairs held consultations for many times, and China demanded Japan to shoulder responsibilities and compensate victims of this incident, Zhang said.