Serena Williams withdraws from two events
( 2003-10-18 09:47) (Agencies)
Serena Williams will miss the rest of the season because of the knee injury that has sidelined her since Wimbledon.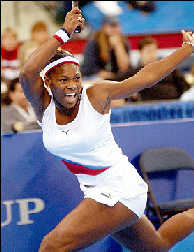 Williams, ranked third in the world, announced Friday that she has withdrawn from the WTA tournament beginning Oct. 27 in Philadelphia and the season-ending Tour Championship in Los Angeles in November.
This year's Australian Open and Wimbledon champion has not played since having surgery Aug. 1 to repair a partial tear in the quadriceps tendon of her left knee.
"I really miss playing tennis and I can't wait to come back and compete," Williams said. "However, I feel that I need more time to prepare and get myself in the best shape possible."
Williams, who withdrew from this year's U.S. Open, has won five of the previous six grand slam titles, beating sister Venus each time.
Venus has also been out since Wimbledon with an abdominal injury, though she is expected to play at Philadelphia and Los Angeles, Tour spokesman Darrell Fry said.
Serena, 38-3 this year, lost her No. 1 ranking to Kim Clijsters because of her injury.