Malaysia urges Muslims to unite Vs. Jews
( 2003-10-17 09:20) (Agencies)
In a blistering attack on Israel and hectoring criticism of the Islamic world, Malaysian Prime Minister Mahathir Mohamad told a summit of Muslim leaders Thursday that Jews ruled the world and recruited others "to fight and die for them."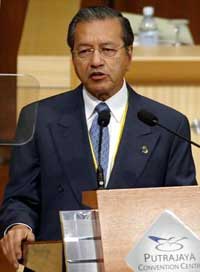 Malaysian Prime Minister Mahathir Mohamad delivers his speech as chairman of the 10th Session of the Organization of the Islamic Conference in Putrajaya, Malaysia Thursday, Oct. 16, 2003. The biggest summit of Islamic leaders in three years opened Thursday. [AP]

"The Europeans killed 6 million Jews out of 12 million, but today the Jews rule the world by proxy," Mahathir, a widely respected statesman in Asia and the developing world, said in a speech as he became chairman of the 57-nation Organization of the Islamic Conference.

"They get others to fight and die for them," he said.

The speech drew immediate criticism from Israel and Jewish organizations, which feared it could fan violence against Jews, but a standing ovation from the kings, presidents, sheiks and emirs ¡ª including key U.S. allies ¡ª gathered in Malaysia's sparkling new capital, Putrajaya.

Mahathir said the Islamic world had shone in science, arts and military power when Europe was in the Dark Ages, but weakened when religious infighting replaced practical learning.

The West pulled far ahead in the Industrial Revolution, Mahathir said, and Muslims still suffer from weak states, disputes over dogma, and a lack of scientific and technological expertise. They cannot move forward until they unite, get smarter and rethink their strategies, he said.

When asked their reaction, the leaders described his speech as "a good road map" and "an eye-opener." None specifically addressed his remarks on Jews.

The Islamic summit comes at a time when many Muslims feel under threat following the U.S.-led wars in Afghanistan and Iraq, and Israeli treatment of the Palestinians in the occupied territories.

Mahathir said Muslims had achieved "nothing" in more than 50 years of fighting Israel.

"They survived 2,000 years of pogroms not by hitting back but by thinking," Mahathir said. "They invented socialism, communism, human rights and democracy so that persecuting them would appear to be wrong, so that they can enjoy equal rights with others."

Mahathir said the world's 1.3 billion Muslims "cannot be defeated by a few million Jews," but suggested the use of political and economic tactics instead of violence to achieve a "final victory."

"In today's world, we wield a lot of political, economic and financial clout, enough to make up for our weaknesses in military terms," he said.

Mahathir, whose 22-year administration transformed Malaysia from a rubber- and tin-producing backwater into the world's 17th-largest trading nation, has long been known for his blistering attacks on globalization, U.S. policy in the Middle East and Israel.

But Malaysia is seen by Washington as a reliable ¡ª if prickly ¡ª ally, cooperating in breaking terrorist networks in Southeast Asia. Mahathir visited the White House last year.

Still, he has remained a blunt opponent of the U.S.-led attacks on Afghanistan and Iraq, and repeatedly warned that the war on terrorism is becoming a war against Muslims. Washington was angered by a speech he made in February in which he described the looming war against Iraq as racist.

Mahathir, 77, has always seen himself as a champion of oppressed Muslims outside his own country. During the 1992-95 war in Bosnia, he welcomed thousands of Bosnian Muslim refugees but expelled Christians who arrived with them, despite appeals by the secular government in Sarajevo.

Israeli Foreign Ministry spokesman Jonathan Peled expressed disappointment at Mahathir's remarks about Jews, but said he wasn't surprised.

"It is not new that in such forums there is always an attempt to reach the lowest common denominator, which is Israel bashing," he said in Jerusalem. "But obviously, we'd like to see more moderate and responsible kinds of declarations coming out of such summits."

Rabbi Abraham Cooper, associate dean of the Simon Wiesenthal Center in Los Angeles, said Mahathir has used anti-Israel statements in the past to prove he's tough on the West. But, he said, Thursday's speech was still worrisome.

"What is profoundly shocking and worrying is the venue of the speech, the audience and coming in the time we're living in," Cooper said in Jerusalem. "Mahathir's speech today is an absolute invitation for more hate crimes and terrorism against Jews. That's serious."

In Washington, State Department spokesman Adam Ereli called Mahatir's remarks offensive and inflammatory. "We view them with the contempt and derision they deserve," he said.

U.S. allies at the conference said they agreed with Mahathir's assessment of the Muslim world's predicament, although they did not specifically address his comments on Jews.

Egyptian Foreign Minister Ahmed Maher said it was "a shrewd and very deep assessment."

"It is great to hear Prime Minister Mahathir speak so eloquently on the problems of the ummah (Muslim world) and ways to remedy them," added Afghan President Hamid Karzai. "His speech was an eye-opener to a lot of us and that is what the Islamic world should do."