Hiring reforms at Fudan
( 2003-10-17 08:40) (eastday.com)
For the first time, domestic and international professionals can apply for newly created professorial positions in Fudan University, as the university launches human resource reforms, school officials announced yesterday.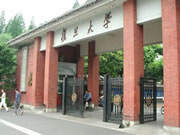 More than 300 full-time professor positions are available at Fudan. They are posted on the university's Website (www.fudan.edu.cn/hr2003).
The majority of the vacant positions are in the university's three main fields of research - arts, science and medicine.
Professionals with a master's degree or above and at least five years of working experience can apply for the positions before November 15, regardless of their background.
An appraisal panel consisting of experienced professors will evaluate applicants' academic achievements and recommend as many as three possible candidates for each spot.
If all the applicants fail to pass the panel's evaluation, the position will remain vacant.
"We aim to bring a competitive mechanism to our faculty members, and this can further become an impetus for Fudan's academic research," said Xu Zhong, vice president of Fudan University.
"As professors are still deficient in Fudan, the new employment rule is to attract elite professionals." Xu said, adding that foreigners and returned-overseas Chinese are especially welcome.
Currently, only one Canadian-Chinese is employed as a full-time professor at Fudan. Other foreign scholars are all contracted scholars working on a short-term basis.
Anyone wanting to work at Fudan can discuss salary terms and other benefits with the university authority, Xu said.
The policy change was carried out after Peking University, one of the leading universities in China, kicked off its personnel reform last year to break life-long academic titles and introduce an up-or-out rule for its faculty members.
Previously, academic titles in China were awarded for life.
Famous scholars tend to stay in one university until retirement. The flow of professors between universities is rare.
Though affected by the reforms, Fudan faculty members are accepting the challenge.
"Professors from outside Fudan can bring fresh blood to our team," said a young teacher surnamed Wu.