Gas field brings Shanghai more energy
( 2003-10-17 02:16) (China Daily)
Shanghai's supply of natural gas from the East China Sea has been expanded thanks to the completion yesterday of the first phase of construction of a 1.7 billion yuan (US$205 million) project.
The city's previous daily supply was 1.2 million cubic metres. The project has enabled Shanghai to get an initial daily increase of 600,000 cubic metres of natural gas from the Pinghu oil and gas field in the East China Sea.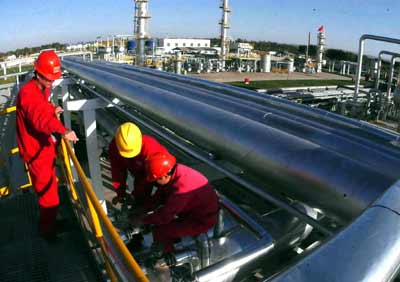 Workers on the Changqing Gas Field in Northwest China's Shaanxi Province inspected the system of the nation's west east gas pipeline project Monday, October 6, 2003. The pipeline originates from that field. [newsphoto.com.cn]
This means Shanghai will be able to receive every year another 219 million cubic metres of natural gas, an energy source whose use the city government has vowed to boost in the coming years.
The city has been relying solely on the supply from East China Sea, a supply that has covered more than 750,000 local families and about 4,500 corporate users. Shanghai used more than 380 million cubic metres of natural gas in 2001, compared with about 280 million cubic metres last year.
Vice-Mayor Zhou Yupeng said: "With Shanghai's growing use of natural gas, we need to create a healthy supply pattern with multiple sources of provision.''
Shanghai received the first natural gas from the west-east pipeline project earlier this month. Commercial use of the gas from western China is expected to begin by the end of this year.
Several Chinese and global companies -- including CNOOC, Royal Dutch/Shell, Sinopec and Unocal -- have jointly embarked on multibillion-dollar projects to further tap East China Sea gas to supply major population centres on the east coast, including Shanghai.
The projects reportedly include three exploration and two development blocks covering 20,000 square kilometres in the sea's huge Xihu Trough. Located about 400 kilometres east of Shanghai, the trough is regarded as one of China's top gas finds.
The supply of gas from the Pinghu field to Shanghai is expected to rise to 2 million cubic metres per day by the end of 2005, when the second phase of the project is scheduled for completion, according to Xu Shunqing, general manager of the Shanghai Petroleum Corp, a major local prospector and developer.
The city is working to scale down its dependence on coal and instead concentrate on more environmentally friendly energy sources such as natural gas. Shanghai expects its annual use of natural gas to reach 2.5 billion cubic metres by 2005. Industrial users and power plants are expected to use a major proportion of this.