China pledges positive APEC role
( 2003-10-17 02:16) (China Daily)
China will positively participate in the upcoming 11th Asian Pacific Economic Co-operation (APEC) Economic Leaders Informal Meeting in line with the principle of benefiting regional security and stability, Chinese Foreign Ministry spokeswoman Zhang Qiyue said yesterday.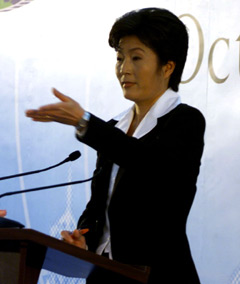 Zhang Qiyue (file photo)

When asked to comment on the US-backed anti-terrorism plan which is supposed to be discussed at the meetings, Zhang said that the US plan includes some "positive factors.''

Discussions on political security, no matter what they are based on, should be conducive to the maintenance of regional stability and security, the spokeswoman said, adding China will also participate in discussions abiding by such a principal.

Zhang stressed that the leaders of APEC members would exchange ideas on regional security issues such as anti-terrorism, but this would not change the nature of APEC as a regional vehicle for promoting open trade and practical economic and technical co-operation, she said.

Senior officials from 21 members of the APEC forum gathered in Bangkok on Tuesday, launching a set of annual APEC meetings, which include the 15th ministerial meeting on October 17-18 and culminate in the 11th Economic Leaders Meeting on October 20-21.

The purpose of the APEC meetings is to promote free trade and Asia-Pacific co-operation in the fields of economy, trade, investment and technology. However, since the September 11 terror attacks in the United States in 2001, and last year's devastating bombings in the Indonesian island of Bali, security and anti-terrorism have also become the dominant topics of the meetings. A string of terror attacks occurred this year in several APEC members, such as Russia and Indonesia.

Zhang also said that during the meeting, Chinese President Hu Jintao was scheduled to meet leaders from other APEC members, such as the United States, Russia, the Republic of Korea, Chile and Mexico.

The APEC forum now groups Australia, Brunei, Canada, Chile, China, Chinese Hong Kong, Chinese Taipei, Indonesia, Japan, Malaysia, Mexico, New Zealand, Papua New Guinea, Peru, the Philippines, the Republic of Korea, Russia, Singapore, Thailand, the United States and Viet Nam.

Currently, the APEC economies comprise some 2.5 billion people, and over 47 per cent of world trade.