Second manned space mission planned
( 2003-10-17 02:16) (China Daily)
China could send its second manned spaceship, Shenzhou VI, into space within one or two years in the wake of the successful Shenzhou V mission, senior officials said yesterday.
But Xie Mingbao, director of the China manned space engineering office, did not give details of the sixth Shenzhou spaceship, or how many astronauts it will carry.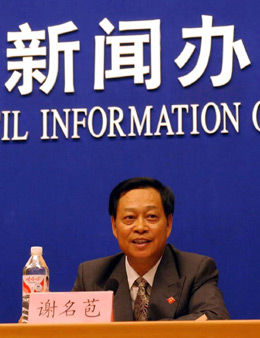 Xie Mingbao

And the Shenzhou VI mission is not planned to involve space walking and docking, said Zhou Xiaofei, director of the manned space engineering office under the China Aerospace Science and Technology Corporation, which is responsible for the development of the Shenzhou spaceship.

Some 18 billion yuan (US$2.17 billion) has been invested in China's manned space flight programme since 1992 when the programme was launched, according to Xie.

Out of this total, 8 billion yuan (US$967 million) has been spent in building up the infrastructure needed by the programme, including test and control equipment and the Beijing Aerospace Control Centre.

The rest of the money was used to produce spaceships, rockets and electronic equipment which has been used during the five flights.

Xie revealed that the launch of the Shenzhou V cost a bit less than 1 billion yuan (US$120 million), while the previous four unmanned Shenzhou missions cost nearly US$100 million each.

Putting a human into space is the first step of three steps in China's manned space programme, Xie said.

The second step is to achieve space walking and docking, develop and launch a space lab, and solve problems relating to its short-term use.

The third is to build a space station and solve the problem relating to its long-term use.

Xie said in the efforts to master the techniques for space walking, docking and operating a space lab, China is willing to learn from Russia and the United States.

But China does not have plans to develop a space shuttle, he said.

And there are currently no plans for co-operation with Taiwan in manned space techniques, Xie said.

However, China is willing to promote forward any activities that benefit Taiwan people, he said, adding that Shenzhou V carried plant seeds from Taiwan.

Co-operation with Taiwan researchers in space breeding is good for the agricultural development of both Taiwan and the mainland and is in the interest of farmers on both sides of the Straits, he said.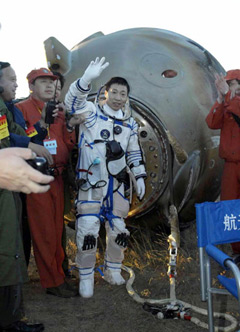 *** President stresses scientific pursuits
The developing countries need to improve their science and technology capacity to avoid being marginalized in the face of globalization, Chinese President Hu Jintao said yesterday.
Hu said it is vital to promote scientific co-operation between countries and increase public awareness of scientific endeavours.
"History shows that exchange between different civilizations is the key to sparking innovations and advancing science and technology," he said.
Hu made the remarks at the opening ceremony of the Meetings of the Third World Academy of Sciences (TWAS) in Beijing.
The meetings provide a forum of academic exchange for elite scientists from developing countries.
Founded in Trieste, Italy, in 1983 by a distinguished group of scientists from the developing world under the leadership of the late Nobel laureate Abdus Salam of Pakistan, TWAS has been pushing to promote scientific excellence in the developing world.
More than 500 TWAS members and guests from 77 countries and regions are attending the four-day event.
Hosted by the Chinese Academy of Sciences (CAS) and several other Chinese scientific bodies, this year's meetings have become a forum for both retrospection and speculation as TWAS marks its 20th anniversary.
Hu spoke highly of the organization's role in promoting south-south scientific co-operation over the past two decades, adding that China is willing to do more to push scientific excellence in the developing world.
The TWAS meetings coincide with China's first successful manned space mission - and the first in the world for a developing nation.
Chinese scientists began joining TWAS shortly after it was founded and through it have carried out a wide range of scientific collaborations with their counterparts from other developing countries.
Chinese scientists have also been the recipients of the largest TWAS research grants. Scores of local research institutes have been named TWAS Advanced Research Centres or are regarded as excellent scientific centres for the hosting of researchers from other developing countries. In return, China has made donations to TWAS and helped train young people from other countries through various foundations.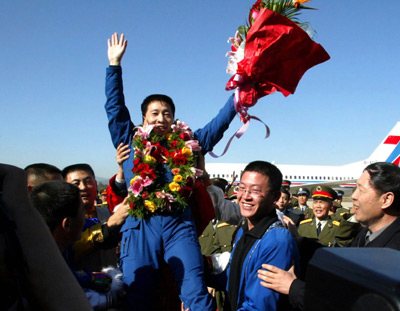 Yang Liwei, China's first space man is welcomed.
*** World leaders hail China's orbiting success
Leaders and officials from foreign countries have extended congratulations on China's successful launch of its first manned spacecraft.
Japanese Prime Minister Koizumi Junichiro called the launch of the Shenzhou V "a great feat" and said it showed China's space science and technology has reached a very high level.
Russian President Vladimir Putin said in his congratulatory letter to President Hu Jintao that China as a member of space club was conducive to maintaining world peace and developing technology.
The European Union (EU) also hailed China's first successful manned space flight.
"The successful launch and safe return of a Chinese astronaut represents an important event for space exploration. Human space flight is a dream for all of us and opens a new chapter for scientific and technological exploration of space," EU research commissioner Philippe Busquin said in a statement.
"For the European Union, it remains a goal to be achieved. This endeavour can bring nations together and opens up new opportunities for scientific and technological co-operation," he said.
French Minister for Science Research Claudie Haignere, the first woman astronaut in Europe, said with China's successful launch of the manned spacecraft, "the space age has entered a new historic period."
Other countries including the Republic of Cape Verde, the Republic of Cameroon, Comorin, Bangladesh, Estonia, Ukraine, Australia, Mongolia, Pakistan, Thailand, Afghanistan, Cambodia, Laos and Viet Nam, have also extended congratulations to China.
Major media around the world all reported China's launch of Shenzhou V and its safe return.
The Chinese people have eventually realized their centuries-old dream of space flying, reported Lianhe Zaobao, a leading local Chinese-language newspaper in Singapore yesterday.
"The successful launch of Shenzhou V is an honour for China," said the newspaper on its front page, citing Chinese President Hu Jintao.
October 15, 2003 is not only a date to be remembered forever by the Chinese people, but also "a splendid moment" in the history of space flight of mankind, said the newspaper in its editorial section.
*** A triumph of high technology
When Shenzhou V safely returned astronaut Yang Liwei to China yesterday following his historic 21-hour space flight, the entire nation erupted in a mood of proud celebration.
But for Zhang Qingwei, vice-general designer of the Shenzhou V Project, the sky is not the limit.
"The 13 key technologies applied in making the spacecraft were developed on our own and they are comparable with the most advanced levels in the world," said Zhang.
"Ten key technologies we applied to the Long March II-F, the carrier of the spaceship, are also the most advanced in the world," said Zhang, who is in charge of technology.
"After being launched, the rocket or spacecraft could only face two destinies -success or failure. There was no third option."
Everyone connected with the Shenzhou V Project was keenly aware that the hopes of an entire nation rested on their shoulders.
For the 42-year-old craft designer, this latest success is one of many highlights he has experienced over the past 15 years.
Born in November 1961 in Northeast China's Jilin Province, Zhang dreamed from a young age of designing aircraft.
In 1982 he stepped closer to achieving that dream when he was accepted by the aircraft designing department at Northwest Polytechnical University.
At that time, none of his classmates could imagine Zhang would become the leader of China's future manned space flight project.
After college graduation, Zhang strode another step towards his lifelong dream by becoming a researcher at Xi'an Aircraft Design Institute.
Three years later he returned to his mother university as a graduate student and majored in the control theory of craft designing.
In March 1988 Zhang made a profound career choice when he joined the Chinese Academy of Launch Vehicle Technology under the China Aerospace Science and Technology Corporation (CAST). It was there he began to extend his dream to flying to outer space.
On April 7, 1990, a live television broadcast recorded the successful launch of Long March III, carrying the Asia No 1 satellite into orbit.
That launch, in which Zhang participated, not only marked a breakthrough for Chinese rocket vehicles, but also Zhang's ascension to the position of senior engineer.
The Long March series of rockets began to attract international acclaim for their reliability and cost-effectiveness.
Since 1970, the Long March rockets have made 71 launches, sending 52 Chinese satellites, 27 foreign satellites and five Shenzhou spacecraft into orbit.
Among these launches, there were only six failures.
The high success rate brought Zhang both fame and more responsibility. In December 2001 he was nominated as the general manager of the CAST.
Under his leadership the Shenzhou Project made four successful unmanned flights before the triumphant manned journey that heralded China as only the third country in the world to accomplish that feat. Shenzhou V has written a new chapter in China's space programme - but for Zhang, the dream remains to fly higher still.