China's debut space mission a 'complete success'
( 2003-10-16 15:05) (chinadaily.com.cn)



China's first astronaut 38-year-old Yang Liwei returned safely to earth Thursday morning, when his craft Shenzhou 5 touched down as scheduled after more than 21 hours in the earth's orbit. Chinese premier Wen Jiabao called the landmark debut flight a "complete success".

The descent capsule carrying Lt. Col. Yang Liwei touched down on the grasslands of the Gobi Desert, in central Inner Mongolia at 6:23 am Thursday (Beijing Time), the Beijing-based China's Aerospace Command and Control Center said. Minutes later, Yang grabbed the capsule hatch with his hand, pulled himself out , smiled and waved at recovery teams and reporters.

"It is a splendid moment in the history of my motherland and also the greatest day of my life," Yang, a former fighter pilot from Northeast China's Liaoning Province, said immediately after emerging. In an interview with CCTV, China's state television, Yang said he was "feeling excellent".

Within hours, Chinese space officials announced that the country's space dreams will continue with a "Shenzhou 6" mission, most possibly within a year. They said China also had worked out plans to conduct space walking by its astronauts, and eventually build up a space station. However, Chinese scientists ruled out building a space shuttle, like the United States.

Shenzhou 5 landed at dawn, 4.8 kilometres (3 miles) from its designed landing target, the officials said.

"The spaceship operated well," the astronaut Yang Liwei said in his first publicized comments. "I feel very good and I am proud of my motherland."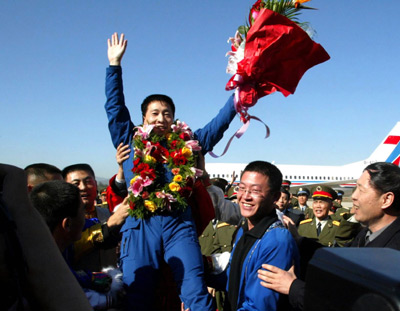 Welcome back!
After a physical exam on spot, Yang's condition was found as "good." He flew to Beijing less than two hours after landing as space fever spread and thousands gathered at Beijing's Millennium Monument for a celebration.
Li Jinai, the commander of China's manned space program, called Yang a "space hero" and a "national hero". Following Yang's touchdown, China's premier Wen Jiabao immediately spoke to Yang from Beijing's command and control centre and offered his congratulations.
"Great Leap Skyward," the country's national English newspaper China Daily enthused in its Thursday edition.
The Chinese government quickly announced plans to eventually establish a permanent space station - and launch another Shenzhou spaceship within a year or two. This week's triumph, they said, is only the first step.
Xie Mingbao, the director of China Manned Space Engineering Office, told a news conference that "Shenzhou 6" capsule would probably be launched "in one or two years' time." Though he didn't say so explicitly, such a launch would almost certainly be manned, and might home more than one astronaut.
Yang's flight came four decades after the former Soviet Union and the United States pioneered manned spaceflight. Soviet cosmonaut Yuri Gagarin orbited the Earth in April 1961. One month later, the United States launched Alan B. Shepard Jr.
The Beijing Aerospace Command and Control Center sent a message at about 5:35 a.m. Thursday to Shenzhou 5 instructing it to return as planned. Shown on a screen in the mission control center, the capsule made a gentle turnaround upon receiving the order.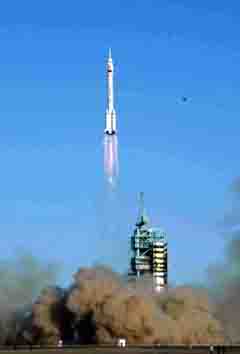 After the landing, helicopters and trucks rushed to retrieve Yang. Reports had said he would be armed with knives and possibly a gun to protect himself against animals and other threats in the Inner Mongolian grasslands where the ship was to touch down.
The mission began when the rocket carrying Yang streaked into a clear blue sky from a Gobi Desert launch pad in China's remote northwest on Wednesday
Yang hurtled around the planet for the rest of Wednesday, making a planned orbit shift in mid-afternoon and stopping work only to rest and eat Chinese food designed especially for space travel.
With his mission nearly half over, he spoke to ground control and his boss. "Don't worry - I'm going to work hard to accomplish the task," he told Chinese Defense Minister Cao Gangchuan.
Later, Yang spoke to his wife and their 8-year-old son from space. "I'm feeling very good in space, and it looks extremely splendid around here," he told his wife, Zhang Yumei, who also works for China's space program.
Yang also unfurled two flags for ground control to see - China's and the United Nations' - to "highlight China's persistent stand for peaceful exploration and exploitation of space," Chinese space officials said.
Even before the safe landing, congratulations poured in from abroad.
"It seems we have a new rival," said Hiroshi Inoue, a spokesman for Japan's space agency. "But since this is not a war, China is not a threat. This could be beneficial to the space development technology for the rest of the world."
NASA , whose space shuttle Columbia was lost in February, called it "an important achievement in the history of human exploration."
Aboard the international space station, American astronaut Edward Lu, whose parents were born in China, spoke in Chinese as he addressed these wishes to Yang: "Welcome to space" and "Have a safe journey and I wish you success."
His colleague, Russian cosmonaut Yuri Malenchenko, told Mission Control in Houston: "I am glad to have somebody else in space instead of me and Ed. Also, I know it was great work by thousands and thousands of people from China."
The budget for the manned space program has long been secret, but Xie said for the first time publicly Thursday in Beijing that it has cost $2.18 billion so far.