IT tycoon tops China's 2003 richest list
( 2003-10-16 10:43) (Xinhua)
Information technology tycoons have made a surprising rebound from the technology bubble burst to top this year's China rich people list although property-related businessmen still dominated the rankings, according to the 2003 Chinamoney 100 list.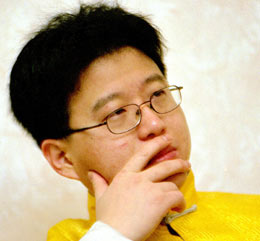 Ding Lei

Three out of this year's top 20 magnates on China's mainland are from the IT industry, a sharp contrast to last year when none from that sector made the grade, according to the list compiled by Rupert Hoogewerf, who had worked on the Forbes China list over the past four years.

Ding Lei, the 32-year-old chairman of NetEase.com Inc, swept to the No 1 spot with a personal wealth of US$900 million, thanks to a 50-fold surge in the firm's share price since the end of 2001.

Ding first worked at a local China Telecom bureau before setting up his own business in 1996 after moving to Guangzhou with Sybase, a US software business.

Chen Tianqiao, who owns online games developer Shanda Networking Development, leapt to the 10th place with a personal wealth of US$480 million. Chen switched to the online gaming business in 2001 after setting up a cartoon Website in 1999. He has since then seen his company attract 150 million registered users to the online game platform.

Charles zhang, chairman of Sohu Inc, one of the three portal Websites listed on Nasdaq, was ranked 20th with US$265 million in assets.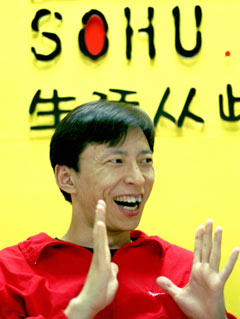 Zhang Chaoyang
Last year's No 1, Rong Zhijian, who owned Hong Kong's CITIC Pacific Group, dropped one place to No 2 this year as his personal wealth stayed unchanged at US$850 million.
Ye lipei, Shanghai's richest man this year, ranked fifth with US$580 million in assets, up one place from last year. Ye's property company, Super Ocean Group, is involved in three major developments in and around Shanghai with a total investment of US$1 billion.
Real estate is still the hottest sector in China as 58 percent of the companies controlled by the tycoons on the list are involved in property and its related industries, such as the construction materials and infrastructure construction.
As many as 40 new names have appeared on this year's rich list with the enlisted 100 rich people averaging a personal wealth of US$230 million.
It is the first time that Hoogewerf has partnered with Euromoney, a London-based publisher and conference organizer, to compile China's top 100 wealthiest businessmen after leaving Forbes magazine this year.
"It is normal to see so many new people on the list as the threshold has been raised to 900 million yuan (US$108 million) this year," said Hoogewerf, who, together with four assistants, took one year to complete the list which will be published today.