Music and fashion stars merge at London bash
( 2003-10-16 10:00) (Agencies)
A host of celebrities from the world of music and fashion joined forces at a star-studded extravaganza hosted by Britain's Prince Charles on Wednesday to raise money for his charity.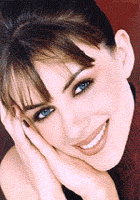 Liz Hurley

Some of the world's top models showed off designs by 17 top international designers, such as Armani, Prada and Versace, many of whom were also present while rock and pop stars performed live performances from a stage behind the catwalk.

British actress Liz Hurley and US comic Denis Leary presented the "Fashion Rocks" event at London's Albert Hall which was held to raise cash for the Prince's Trust, the UK's leading charity for young people.

Amongst the plethora of well-known names joining Prince Charles and his partner Camilla Parker Bowles for the sell-out show were singers Beyonce Knowles, Sheryl Crow, and Robbie Williams.

"Fashion Rocks is a hugely exciting fundraising event for The Prince's Trust," Sir Tom Shebbeare, the charity's chief executive said.

"Music and fashion is a powerful combination and the fantastic support we have received from... icons from the world of showbusiness will help us to give even more young people a second chance in life."