Beijing to be more open for SARS information
( 2003-10-16 01:53) (Xinhua)
Beijing is to establish a news release system for public health information in a bid to prevent another outbreak of severe acute respiratory syndrome (SARS).
District leaders will be responsible for SARS prevention in their districts and a supervision mechanism should be strictly implemented, said Liang Wannian, deputy director of the Beijing Health Bureau, at a press conference Wednesday.
Beijing was one of the worst-hit regions in the last SARS crisis and the former mayor was dismissed for delaying the release of SARS information.
China has stepped up warnings to local authorities against covering up any new SARS outbreak, which may occur this winter and next spring. People delaying reporting or hiding the true situation would be severely punished, warned Chinese Vice-Premier Wu Yi at a national conference on SARS prevention last Thursday.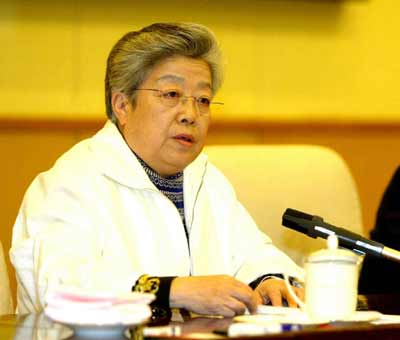 Vice-Premier Wu Yi says more measures should be taken to prevent SARS resurgence at a national meeting October 9, 2003. [Xinhua]
The Ministry of Health reactivated its nationwide system of daily reports on Sept. 19, and it said Wednesday that no new infections had been reported.
Beijing has set up a wide network to ensure the timely and accurate report of SARS cases to the authorities, said Deng Xiaohong, another deputy director of the Beijing Health Bureau. Any cases that resemble SARS should be given medical observation. The reporting mechanism was implemented by residential communities in urban areas and village committees in rural areas.
Deng urges strict SARS prevention measures for places where the epidemic can easily spread. Public places including schools, construction sites and railway stations should be kept well ventilated and sterilized, said Deng. He also asked relevant departments to improve the living conditions of migrant workers, whose health is usually not guaranteed.
Civil aviation and quarantine departments in Beijing are also required to strengthen health inspection and sterilization over flights coming from abroad.
Beijing has opened 66 special clinics for fever patients to prevent spread of SARS through hospitals and will finish examination and repair of medical equipment in Xiaotangshan Hospital, built during the SARS outbreak in spring of this year, before the end of November. The city has also stored supplies, including prevention clothing, disinfectants, medicines, medical apparatus and diagnosing agents.
According to the World Health Organization, SARS will be the most serious infectious disease for human beings in the 21st century. The cause of the disease is still unclear and scientists have not found effective ways of curing and preventing SARS.
The Beijing Health Bureau signed a cooperation contract on SARS research Wednesday with the British Medical Research Council to study SARS prevention.