Bolivian leader defiant as deadly protests rage
( 2003-10-14 08:58) (Agencies)
At least 10 people were killed on Monday when Bolivian police clashed with protesters armed with slings and stones demanding the removal of President Gonzalo Sanchez de Lozada over a host of grievances.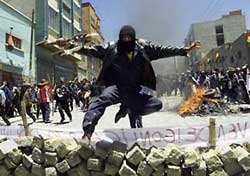 A demonstrator jumps over a barricade in La Paz, October 13, 2003. [Reuters]

But Sanchez de Lozada, a U.S. ally in the anti-drug war, refused to step down. "I am not going to quit," he said in a televised national address. "Bolivia is in danger."

Sanchez de Lozada repeated accusations that unspecified foreign interests were bankrolling the protests, which have claimed more than 45 lives over the last month.

The unrest was initially sparked by plans to export natural gas to the United States that angered many Bolivians who feared the benefits would not reach the broad population.

The planned export route, via Chile, also raised tension because of an age-old dispute between the two neighbors over Bolivian access to the Pacific.

The protests gained momentum from long-standing resentment at Sanchez de Lozada's free-market economic policies and failure to raise living standards in one of the Western hemisphere's most impoverished nations.

Thousands of coca farmers angry at a U.S.-backed drive to eradicate illegal plantations of their crop, the raw material used to make cocaine, joined striking workers with protests of their own.

"The President must go!" said Indian leader and lawmaker Evo Morales, who nearly won the presidency in 2002.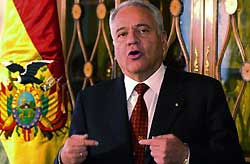 Bolivian president Gonzalo Sanchez de Lozada delivers a speech to the nation due to the severe social conflicts that reached the country in La Paz, Bolivia on monday, October 13, 2003. [AP]

Sanchez de Lozada, who was forced to flee the presidential palace in an ambulance during riots in February, suspended the gas project earlier on Monday in a bid to defuse the protests.

Bolivia's Permanent Human Rights Assembly said the deaths occurred in and around La Paz and the nearby industrial suburb of El Alto, dubbing the violence the worst since Bolivia returned to democracy in 1982.

The rights organization had unconfirmed reports of seven more possible fatalities.

CHAOS IN LA PAZ

Police and troops formed rings around the presidential palace downtown, blocking the advance of striking workers in traditional dress waving the rainbow flags of the ancient Inca empire and banging drums to demand Sanchez de Lozada quit.

Elsewhere downtown, police on motorbikes rode through the streets firing tear gas at protesters armed with rudimentary slings, Reuters photographer David Mercado said, echoing scenes in El Alto.

The international airport was closed while pungent black smoke from burning tires spewed into the air.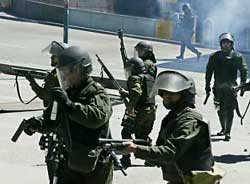 Bolivian riot police shoot teargas during a strike in the center of La Paz, October 13, 2003. [Reuters]

The State Department voiced support for Sanchez de Lozada, saying in a statement it "will not support any regime that arises from undemocratic means."

A rift in Sanchez de Lozada's administration emerged as Vice President Carlos Mesa said he disagreed with the use of deadly force to quell the protests and Economic Development Minister Jorge Torres resigned citing differences of personal ethics with the government.

Mesa said he would continue to serve as vice president and that it was time the government held open dialogue with its opponents.

Human rights groups said 26 people were killed on Sunday alone after thousands of troops backed by tanks were sent in to crush increasingly violent protests.

Fuel and basic foods have run short in the capital as thousands of protesters stopped convoys of trucks entering the Andean city.