Chinese to seek justice in Tokyo court
( 2003-10-14 07:48) (China Daily)
The family of a Chinese victim of mustard gas left behind by the Japanese troops during World War II has decided to file a lawsuit against the Japanese Government, lawyers have told China Daily.
Family members of Li Guizhen, who died on August 21 from serious burns from the highly toxic gas will bring action in a Japanese court.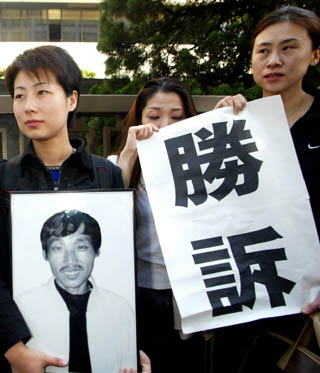 Liu Min (left), one of the 13 Chinese plaintiffs suing Japanese Government for compensation for damages caused to their families by chemical weapons left over in China by Japanese invading troops during World War II, react to reporters after the Tokyo District Court awarded the families US$1.7 million. Liu's father was seriously injured after trying to dismantle a remaining Japanese shell in August 1995, and died later. [Xinhua]

Some 43 other victims of the leak in Qiqihar in Northeast China's Heilongjiang Province in early August hope that government officials can negotiate a settlement in the matter. A third round of Sino-Japanese discussions began yesterday in Beijing.

The Li family's lawyer Su Xiangxiang said the family plans to officially proceed with its suit the same day that 10 Japanese victims of chemical weapons left by the Japanese army during World War II plan to sue the Japanese Government.

The 10 -- all Japanese children -- were poisoned in April by drinking water from local wells tainted by a chemical weapons factory in Japan used during the war.

When asked why he chose the same day as the Japanese victims, Su said in a telephone interview that both plaintiffs suffered from the same toxic chemical elements.

He added the family may fly to Japan at the end of this month if Li Guizhen's wife Liu Aiping can get a visa from Japan.

Statistics show that at least 22 cases have been filed against the Japanese Government or Japanese enterprises by Chinese civilians since 1995 involving toxins from the war.

Yu Ning, deputy chairman of the All-China Lawyers' Association, told China Daily that Chinese civilians have only won or partially won three suits, and achieved settlements in other lawsuits.

Chinese plaintiffs have failed in about a dozen other suits, and another seven lawsuits have not yet gone to hearings, Yu added.

However, Japanese defendants in three suits have appealed to higher courts, including one which resulted in a recent ruling by a Tokyo District Court judge who ordered the Japanese Government to pay compensation to 13 Chinese citizens for harm caused to them by Japanese chemical weapons left in China.

"Based on very explicit historical facts, the verdict made by Tokyo District Court is fair and square,'' said Li Zhongyuan, a researcher with the Museum of the War of the Chinese People Resistance Against Japan in Beijing.

Li said the verdict legally determined Japan's neglect. "A reversal of this just judgment by a higher court will directly influence the understanding of Japanese people toward history,'' Li said.