S.Korea President may step down
( 2003-10-13 11:38) (Agencies)
South Korean President Roh Moo-hyun said on Monday he favored holding a referendum in mid-December on his rule and would step down if the vote went against him and conduct a fresh presidential election in April.
Deepening a self-inflicted political crisis that has stunned his foes and friends alike, Roh told parliament he had lost confidence in his ability to carry out his duties in the face of political and media hostility.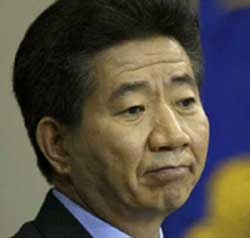 South Korean President Roh Moo-hyun reacts at a news conference at the presidential Blue House in Seoul October 11, 2003. [Reuters]

Roh said he favored a date around December 15 for a referendum to seek a renewed mandate for his presidency amid a political funding scandal. It was not immediately clear whether his timetable was feasible.

"I reached a situation in which I cannot conduct the presidency," he said in the televised speech, lamenting a weak political base and a hostile media. "I have no confidence in doing my job under this situation."

South Korea's financial markets did not react dramatically to the latest twist in the political crisis. The stock market was up about half of one percent.

Roh, who was elected for a single five-year term in December last year, said he would hold a fresh presidential election at the same time as an April parliamentary election if he lost the referendum.

"I believe a referendum is proper. This is not without legal disputes, but if we achieve a political agreement, (a referendum) should be possible under current law," Roh said.

The 57-year-old Roh surprised his country of 48 million people on Friday when he suggested he would test his mandate after just eight months in office.

While combating a recession in Asia's fourth-largest economy, South Korea is struggling along with its diplomatic allies to resolve a standoff with North Korea over the communist state's nuclear arms programs.

Roh said in his speech he was confident the economy would recover soon. He also called for a change in often fraught relations between management and unions to help companies remain competitive in global markets.

Roh, who is due to meet President Bush this month at a summit of Asia-Pacific leaders in Bangkok, also faces a tough decision on how to respond to a U.S. request to contribute combat troops to Iraq. Opponents of the war have staged street protests against any dispatch of troops.

Roh's only government post before he took office in February was a short spell as fisheries minister.

Roh has seen his reformist credentials tarnished by a number of scandals involving former aides and also watched his ratings plummet to about 25 percent. He recently left his political party, which had split into two rival factions.

The latest row involves Choi Do-sul, a Roh confidante of 20 years who was named by prosecutors as having received funds from the scandal-tainted SK Group before last December's presidential election. Choi has denied any wrongdoing.