Muslim nations wrestle with how to help Iraq
( 2003-10-13 11:29) (Agencies)
Muslim nations, divided over the way forward in Iraq, will try to overcome their differences on Monday, hours after a fresh suicide bombing in the capital Baghdad spread fears of further instability.
Foreign ministers from the Organization of the Islamic Conference (OIC), meeting in Malaysia ahead of a summit of the movement on Thursday and Friday, were also expected to finalize a resolution condemning Israel for attacking Palestinians and making threats against their leader Yasser Arafat.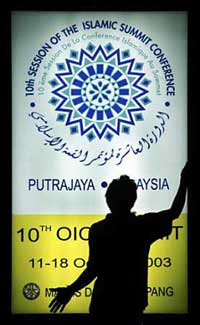 A worker prepares a display welcoming delegates to the Organization of Islamic Conference (OIC) Summit in Putrajaya, 22 miles south of Kuala Lumpur, October 11, 2003. Muslim nations demanded 'eviction of all foreign forces from Iraq' as they began the summit, with only Turkey defending plans to deploy its troops alongside the U.S.-led alliance. [Reuters]

Another key item was a declaration of support for Syria after an Israeli air raid a week ago prompted Damascus to assert its right to self defense, fanning fears of escalating conflict in the Middle East.

Support for the Palestinian cause is widespread across the 57-member organization but the group is riven by differences over Iraq, especially the issue of sending troops to help U.S.-led forces administer the country.

A Yemeni delegate told Reuters the ministers will finalize a OIC resolution on the Palestinian conflict.

"It's a resolution condemning the Israeli attack against the Palestinians and its threats against Arafat," said Abdulelah Hajar, an ambassador in the Yemeni ministry of foreign affairs.

A total of 35 heads of state or government are expected to attend the summit in Malaysia's new administrative capital of Putrajaya.

IRAQ ATTENDING

The Iraqi Governing Council's Foreign Minister Hoshyar Zebari was in town for Monday's talks, and Iyad Allawi, the new head of the U.S.-backed council under the rotating leadership, will participate in the summit later in the week.

Washington is pushing for a new Security Council resolution giving the United Nations a broader mandate to try to persuade reluctant countries to help in stabilizing Iraq.

Turkey has agreed to send troops, but Iraq's Governing Council is resisting the move, saying neighboring countries have too many strategic interests in Iraq to be peacekeepers.

Turkey said on Sunday its troops could help guarantee peace, but the Yemeni diplomat told Reuters his country will side with Iraq if it opposed Turkey sending troops without a U.N. mandate.

"Turkey is Islamic, but if they act according to the U.N. Security Council, nobody will blame them," Hajar said.

Pakistan, one of the other Muslim governments the United States hopes will help take the burden off its 131,000 troops in Iraq, laid out conditions needed for it to send a force.

In an interview with Reuters, Foreign Minister Khursheed Mehmood Kasuri said Pakistan would send troops if it had a U.N. mandate, was part of a multilateral Muslim force, or received an Iraqi request that would ensure the troops were welcome.

He dismissed calls from some quarters, voiced over the weekend by the OIC's Moroccan Secretary-General Abdelouahed Belkeziz, that foreign forces should be evicted from Iraq.

Kasuri said it was unrealistic to demand the United States pull out as it was unlikely that other nations had the capacity to stabilize the country without U.S. troops there too.

"Nobody's asked for that, neither France, nor Germany. People are not so unrealistic," Kasuri said.

"After all the U.S. has 150,000 troops (in Iraq). Who's going to come up with that?

"What we are talking of is international legality."