Philippines' Arroyo hails killing of militant
( 2003-10-13 11:18) (Agencies)
Philippine President Gloria Macapagal Arroyo congratulated security forces on Monday for killing a fugitive Indonesian militant, saying his death showed that "terrorists" would never succeed in her country.
The Philippine military said on Sunday Fathur Rohman al-Ghozi had been killed earlier that day, three months after escaping from a Manila jail, eliminating a major security threat six days before President Bush visits the country.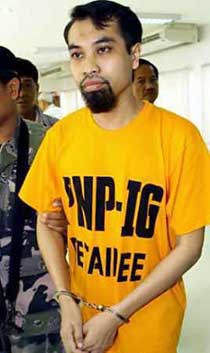 Al-Ghozi, seen in this July 2 file photo, escaped from national police headquarters in Manila on July 14. He had admitted to being a member of Jemaah Islamiah , a southeast Asian guerrilla group suspected of strong ties to Osama bin Laden's al Qaeda network. [Reuters]

"The death of al-Ghozi signals that terrorists will never get far in the Philippines," Arroyo said in a statement.

"We are determined to end this transnational threat decisively."

Al-Ghozi, a member of the Southeast Asian Jemaah Islamiah Muslim militant group that has been linked to Osama bin Laden's al Qaeda, was jailed in 2002 for 17 years for possessing explosives and falsifying documents.

He was also accused of masterminding bombings that killed 22 people in Manila in December 2000.

His escape in July was a severe embarrassment for the government.

The Philippines, an overwhelmingly Roman Catholic country, is a staunch ally of the United States and is expected to get even more U.S. military and development aid when Bush makes an eight-hour visit to Manila on October 18.

The government gave no details of al-Ghozi's death, but a radio station reported he was killed after a shoot-out with police in the southern region of Mindanao.

The reports said al-Ghozi had been one of two men who began firing at police after their vehicle was stopped near the town of Pigcawayan in North Cotabatu province.

But radio also quoted the governor of the province as saying it appeared there had only been a few shots heard in the area rather than a major shoot-out.

A doctor who declared a man dead on arrival at a hospital told media the bullet-riddled body resembled al-Ghozi.

"The body, which has similarities with al Ghozi, bore three gunshot wounds in the chest, one in the abdomen, and one in the lower extremities."

The army killed one Filipino Muslim rebel who fled with al-Ghozi in mid-July and recaptured another last week.

Intelligence agencies suspected al-Ghozi's hand in other attacks in the region. The United States says the bomb expert trained at an al Qaeda camp on the Afghan-Pakistani border.

In recent days the Philippines has reinforced security at possible targets ahead of Bush's visit.

Australia has said the Jemaah Islamiah could increasingly turn its attention to the Philippines because it offers many targets such as Western-style clubs, hotels and multinational businesses.