US$400 million inked at high-tech fair
( 2003-10-13 09:53) (China Daily)
The annual China High-tech Fair opened in the South China boomtown of Shenzhen yesterday with about US$400 million worth of deals signed in the opening day.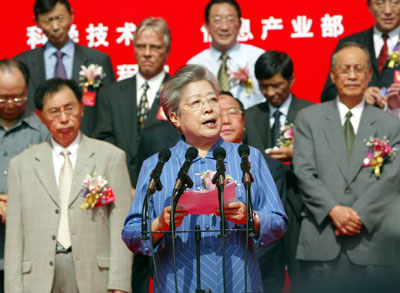 Premier Wu Yi speaks at the opening ceremony.
Hosted by the Shenzhen municipal government and several ministries - including the Ministry of Commerce - the fair has been one of the world's largest high-tech gatherings since it was launched in 1999.
Officials say it has provided an important arena for both domestic and foreign companies and researchers to showcase their latest information and communication technologies, environmental technologies, bio-technologies, as well as new materials.
Some 17 major projects, ranging from high-tech products to sewage treatment, were the subject of signed contracts yesterday with a total of US$400 million in investment.
Da Tang Mobile Communications Equipment Co, a leading mobile communications equipment manufacturer in China that is committed to research and development on China's third-generation (3G) wireless technology standard, signed a contract with a Shenzhen company to develop a chip for base stations under the new 3G standard, or Time Division - Synchronous Code Division Multiple Access (TD-SCDMA) technology.
"We are happy to co-operate with the Shenzhen company which was established by students who returned from abroad after finishing their education," said Li Shihe, vice-president of Da Tang. "The one-time investment will be some US$2-3 million, but the demands are very big that we estimate it could be some 100 million yuan (US$12 million) when our products are introduced to the market early next year," he added.
In another deal, Shenzhen Yiti Intellectual Technology Co, a medical equipment provider, signed a US$20 million contract with American Radiosurgery Inc to produce the core part for the US company's tumour-curing equipment.
Japanese high-tech company Toshiba introduced its IP image transmission system, which could be used to monitor rivers, highways and other outdoor objects. Hideyuki Shimura, a senior specialist at Toshiba, said the system has been used in Japan for 50 years and is mature and stable.
Vice-Premier Wu Yi said in opening ceremonies that she hopes the fair will be a significant bridge for high-tech exchange and co-operation.
"The fair should not only accelerate the exchanges of high technologies, but also encourage companies seeking R&D partners to satisfy their demands," said Wu.
"The fair is showcasing China's commitment to improving the structure of export products and product quality and enhancing the product's added value," she noted.
The high-tech fair ended with a record 1,581 deals worth US$12.16 billion last year, up 16.7 per cent from a year ago.
Lord Sainsbury, the British minister for science and innovation said yesterday, "The China High-Tech Fair is an important opportunity for British business to showcase its innovative technologies and products. It is also a forum at which Britain and China can build on partnerships in the high-tech field."